20 Years Later, Aaliyah's Mark On Fashion Remains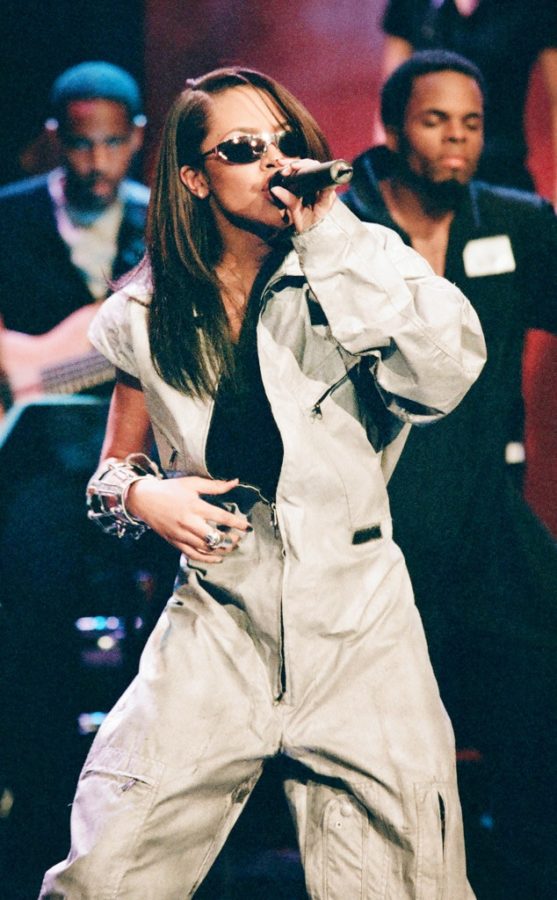 Twenty-two years is not a long life, but it was long enough for Aaliyah to make a persisting impact on music, culture, and perhaps most recognizably in everyday life, fashion.
Aaliyah Dana Haughton, known mononymously as Aaliyah, needs no introduction to most within the R&B, pop, and hip hop scene. But for those unfamiliar with the singer, actress, dancer, and model, Aaliyah's timeless sense of style was well-known. She could wear baggy jeans and a basketball jersey one day, and a sleek Roberto Cavalli gown the next with ease.
Aaliyah's style drew as much attention and admiration as her work did. She was nominated and awarded many times for her Billboard charting songs for categories such as "Best R&B Vocals" and "Best R&B Album" and even her role in 2001's "Romeo Must Die".  Her album "One in a Million" was released on streaming services august 2021, over 20 years after it originally debuted on the top of Billboard charts. Aaliyah's sound and style are still reflected in the music of artists like Normani, SZA, The Weeknd, and Drake. 
 Her outfits, which included exaggerated proportions, bra tops, bandanas, and tinted sunglasses, boosted and reinvented the "tomboy" style, which is still popular today. Aaliyah's career paralleled the rise of brands like Baby Phat, Enyce, Rocawear, and Sean John. Many of which came from the prominent hip-hop and R&B circles she was a part of.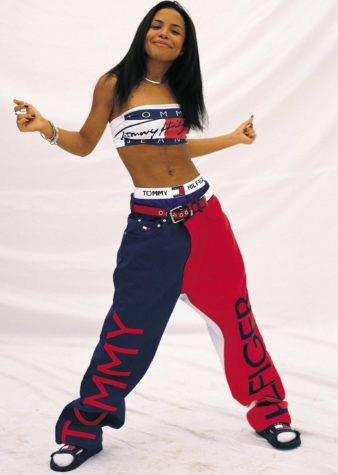 Aaliyah was chosen for Tommy Hilfiger's Tommy Jeans ad campaign in 1996, which marked the brand's first push into womenswear. Aaliyah was the first female R&B singer to be included in such a high-profile campaign, and the bandeau top, baggy pants, and exposed boxers she wore in the commercial were instantly memorable. Destiny's Child wore various iterations of the outfit alongside Hilfiger at a Macy's event in New York City two years later, while Zendaya, Keke Palmer, and Tinashe have both done so in recent years as a tribute to Aaliyah.
Aaliyah was fluidly integrating the streetwear trends born in urban neighborhoods such as Brooklyn and Detroit with her own sense of style, while skirts and silky dresses were being sent down runways and featured in the pages of fashion magazines at the time. "She added her touches to everything," her stylist Derek Lee said in an OkayPlayer interview, "especially with the bandanas; that was all her. [When] it was time for her to elevate, we went towards Chanel scarves and Fendi scarves—stuff like that." Lee noted that Aaliyah didn't invent the masculine-meets-feminine aesthetic, "but she perfected it," he said. "I saw it in other people's music videos, and I definitely saw it in the streets." 
Lee attributes the most recent Aaliyah adoration to the undeniable shift in the way women dress, particularly since the outbreak of the pandemic. "People really want to be comfortable," the celebrity stylist explained. Her style appealed to girls and women who, like her, did not want to be restricted to clothing that was short, tight, and traditionally feminine. Aaliyah gave them the confidence to dress in exaggerated sizes, allowing them to be more free in their own image. She made being a tomboy cool. She pioneered her signature, one-of-a-kind style, which set her apart from the traditionally feminine woman in the public eye.
Hailey Bieber, Bella Hadid, Rihanna, and Ciara among many other celebrities have made baggy jeans and a crop top their go-to simple look. Tinted sunglasses and bra tops with criss crossed midriffs are still common outfit choices today for the younger generation.
"I dress in my baggy clothes everyday and I am a laidback person, which is what I portray on the camera," Aaliyah said in a 1994 interview with MTV. "I'm laidback, I'm mellow, kind of jazzy. I like the jazzy music. So, it's not really much of a difference which is probably why it's so easy, because it really is how I am."