What's Up With All of These New Signs and Banners in the Building?
Recently, Skyline administration made the decision to put up new signs, banners, and other decorative elements around Skyline High School. Students had a few questions, mainly, why were they put up? 
"We've had an ongoing goal since the building has been built just to make it more homey and then bring more color," said Skyline Principal Cory McElmeel. "We also received a lot of feedback from past freshman classes and new students that orienting themselves in the building is challenging. Given the kind of mirror-esqe of our building, the floors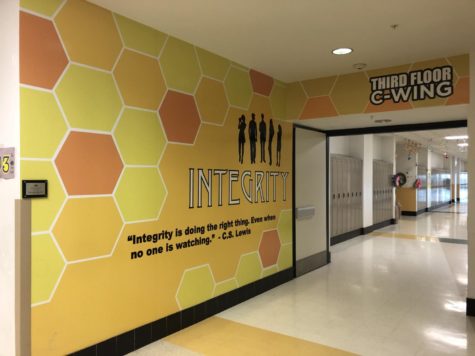 look very similar. We combined goals and we were able to put in some wayfinding signs that were also attractive."
Administration received the feedback about navigating the building from the surveys the student body takes each year.
"You guys do a student survey every single year. We review that feedback over summer. Consistent feedback about this facility is that it's hard to get/find your way around. You'll see the wayfinding signs that have been installed in the last couple of years. And then these markings to show where certain departments are and their places in the building. So it comes back in our annual survey feedback and perception feedback that we also get from parents when we do our external reviews," said McElmeel.
 According to Jolene Everard, Skyline's Budget Manager, funding for the new banners came from a few sources as well, generated mainly from renting the building to third-parties for various events, and from students purchasing parking passes.
Students and teachers have had mixed responses to the new banners and signage.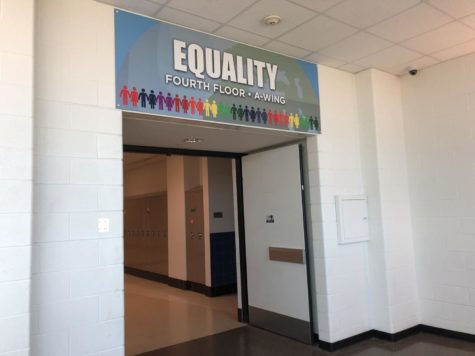 "I think they look good," said English & Journalism teacher Annie Blais.
"They make the school feel kind of corporate and confined. They won't age well at all in my opinion and they don't look great now," said Senior Andres Marquez-Collins. "They haven't helped me [get around the building] but they would help people new to the school I'm sure." 
"They definitely would've been helpful [for navigating the school] in like 9th grade," said Senior Matthew Sept.
"Personally, I don't like them, and they haven't helped me get around," said Freshman Charles Zhu.
Freshmen Angel Benki and Nico Colias agree that the new signs have been helpful to them for getting around the school. "Mm-hmm, a little yeah," said Colias.
"Yeah, the new signs have helped a bit," said Benki.