Disparity Between Hockey Locker Room Conditions Raise Concern
There is a clear disparity between the accommodations each Skyline Hockey team gets for locker rooms; the men get private, spacious, and clean accommodations, whereas the women get borrowed and dirty facilities. With the Skyline men's hockey team being on the roster since 2011 (a club before that), the women's team is relatively newer and younger. The men's team has had more time to adapt and grow roots for their team, but where does that leave the women's team? Where do the budgeting issues end and moral discrepancies begin?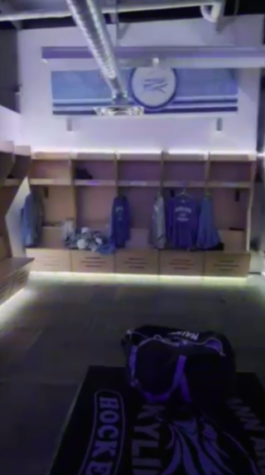 When Jake Stripp was the head coach of the men's team, he was offered the opportunity to pay for a locker room of their own at Chelsea Arctic Coliseum. All of the fees for the locker room were entirely parent-funded through donations, fundraisers and yearly fees. Money for ice time also comes from the same money pool.  "Before Stripp," Skyline Athletic Director Bob Wellman adds,"boys used to be at Yost Ice Arena where they didn't have a set locker room." The men were able to take advantage of a spontaneous opportunity; the women have not been offered the same. 
The women's team doesn't have enough athletes from Skyline, so they created Skyron; a merged team with Huron High School. Skyron is on borrowed land, practicing at Veterans Ice Arena. Whenever they travel, they use swimming pool locker rooms. Senior Leyla Willams notes, "We have to take our gear home every night…[and] every girl usually handles getting their own equipment." 
Though the locker room conditions aren't ideal, Willams thinks it's "easier to look on the bright side as it helps with team bonding. We're all a lot closer because of this."
These discrepancies seem to extend to Pioneer's women's team, as well. Senior Abby Cheng notes, "we've never had our own locker room like the men's team that allows us to keep our gear there." Pioneer's women's team is 17 years old, but there are still gaps in the gear they receive versus the men's team. Cheng's brother, who played from 2008-2012, got "purple gloves along with a pioneer hockey bag with his name and number on it. The women's team doesn't get these, and if they did it would be because they all paid for them separately."
But are these discrepancies legal?  Title 9 is a federal law created to prevent discrimination of financial assistance given to sports and educational activites based on gender. The question is: does this law support the equal funding of gendered sports, or the outcome? 
The answer lies in a gray area between what AAPS funds and what other restrictions the law puts in place. Technically, the law only protects equal gender participation and funding is up to the school board. Executive Director of High School Education, Paul DeAngelis says the law "assure[s] equal participation based on enrollment… about 50/50 girls and boys." Wellman explains that "most sport funds go to coaches' pay and transportation."
It's not legally wrong to have differences in locker room properties, but is it morally wrong to deny one team the same chances another has? 
Athletic directors "haven't had much say in off campus locker rooms," says Wellman, but he encourages the women to speak with their ice rink to start fundraising for their own space. Both teams deserve to be given the same tools to set themselves up for success and, ultimately, a win for Skyline.