Anyone who has been to a Skyline sporting event knows the vibrant, talented cheer squad. However, not everyone knows that Skyline's Pompon team is a group of athletes dedicated to the performance, grace, and artistry of spirit sports. Now, for the first time in years, the team is expanding to competitions. 
Pom is a spirit sport dedicated to both athletic excellence and school spirit leadership. It differs from cheer in that they primarily dance to music, with genres ranging anywhere from hip-hop to high kick. "Although Pom is most recognizable by the use of poms," says Skyline Pom Coach Carrie Bora, "it is really characterized by crisp, strong, highly synchronized movements performed with high energy and flair." 
The goal of the team is ultimately to be able to represent the school community as a whole. Even though not all of the Pom athletes need to be friends per se, "they must all be kind, supportive, and inclusive," says Bora. The team also values performance beyond just the dance stage: they are expected to "demonstrate the core competencies of our sport: spirit, skill, and leadership," says Bora. 
This sentiment is reciprocated throughout the team. "To me, Pom is positivity-based, as we thrive off of close team connections," says team captain Claire Cronin ('25). "There are a lot of practices and it's definitely not easy, but I love it, the sport just radiates positivity."
For the 2023 Fall season, the team experienced the typical, exciting routine of football games and training camps. "Homecoming was a definite highlight, with our first attempt at float building and our expanded team performance," says Bora. 
The team also branched out, going to a handful of both volleyball and soccer matches. This is definitely something they look forward to doing more of, in the future.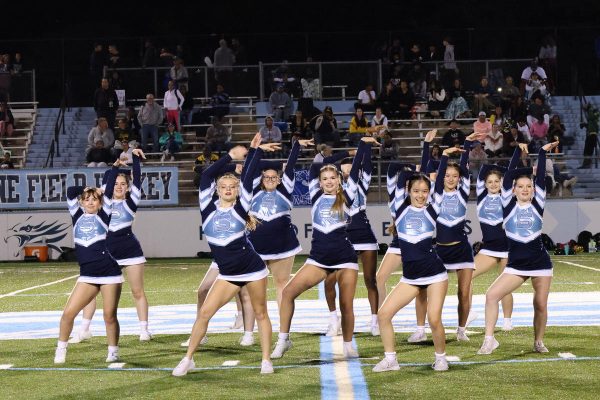 This year, the squad is returning to competition. They will attend the Mid American Pom's regional competition in late January at South Lyon East High School. "While the competition is steep," says Bora. "Teams all cheer each other on, combining excellence and sportsmanship."  
With winter coming, the squad begins to shift their priorities. They will be at every home basketball game with halftime routines, and potentially new activities such as leading halftime games like free-throw and relay race contests. 
"Going into my sixth season with the Pom squad, I'm really looking forward to cheering at the basketball games and competing for the first time," says Cronin. "I'm ready for the challenge."