After 13 years as SLC principal at Skyline, this summer Casey Elmore was appointed interim principal after former Skyline principal Cory McElmeel accepted a new position in AAPS for the 2023-24 school year. 
Elmore hopes to secure the full-time principal position for the 2024-25 school year. "​​I kind of look at [being interim principal] as my year-long interview to make sure that I can do the job," she says. 
In the footsteps of her mother and aunt, Elmore attended Central Catholic High School in Toledo, Ohio.  If she could redo high school, Elmore wouldn't worry so much about being a people pleaser and making everyone happy. "I wasn't shown women in a lot of leadership positions," Elmore reflects. "So I think sometimes that can limit [women], or they settle for things that are beneath what [they] deserve."
After completing high school in Toledo, Elmore knew she wanted to pursue an education-related career. She attended Eastern Michigan University, drawn to its well-known education program, reciprocal tuition, and her relatives living in Ypsilanti. "It made sense for me to go to Eastern, and I never left," says Elmore. "I didn't know what I wanted to teach per se, but I knew I wanted to be in a helping profession…. And then I just did what I enjoyed."
Before coming to Skyline, Elmore worked in Willow Run for ten years as an Art, English, and Title One reading intervention teacher. She has experience in every education level: elementary, middle, and high school. "I love all levels for different reasons, but high school has been my favorite… I feel like we're able to do a lot and students are able to contribute so much to the school and be active participants." 
Students have yet to learn much about Elmore; many don't know her well. "She seems cool, but I don't really know," says Charlie Lacy ('24). "I don't talk to the principal a whole lot." To combat feeling removed from students, Elmore tries to "prioritize being at breakfast and both lunches if [she] can… it can be easy to kind of get removed, and that's not who [she] wants to be."
In recent years, Elmore has attempted to find more of a work-life balance after her family told her she was working too much at home. "I really took that to heart, and then COVID really allowed us to reprioritize things," says Elmore. "I do a lot of prioritizing with my time….and then just doing my best to balance it. I don't have a great system, but I've been trying."
Outside of school, Elmore spends time with her dog, friends, and family as much as possible. She has a passion for mystery books and true crime and can easily get lost in a Law and Order or Criminal Minds marathon.  She has a passion for art and has been trying to prioritize putting it back into her life. "I'm not like a wonderful artist or anything, I just feel like it's a good expression," says Elmore.
During her time off, Elmore loves to travel; she likes visiting her father in Florida as well as other tropical places. Elmore loves warm destinations, so she is planning on going to Belize this spring break.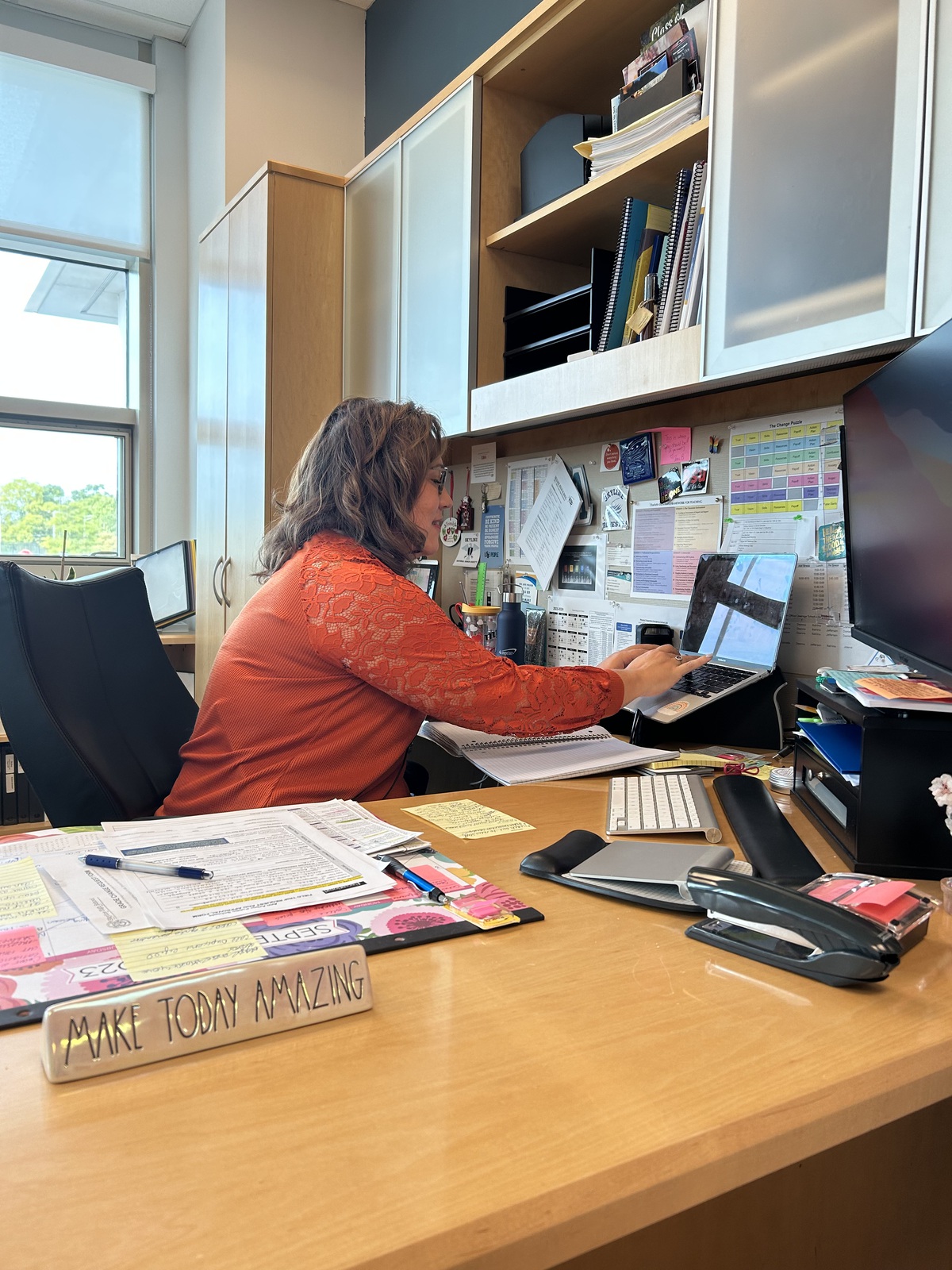 In contrast, Elmore's favorite trip was when her husband was stationed in Germany. She has visited many European countries such as Bavaria and France. "Those were never places on my list that I was like oh my gosh, but they were so interesting to travel to," says Elmore. "We went skiing on the Bavarian Alps and took some ski lessons."
In and out of school, Elmore loves Skyline. She "feels like it's [her] second family." And, despite being asked to take other principalships, she didn't want to leave Skyline as it is "one of the most special places." 
Elmore makes both staff and students feel comfortable. "[She] has always had an 'open door' policy, where staff [are] welcome … [to talk] with her at any time," says Casey Warner, science department lead.  "[Elmore] has been great about listening to our concerns and also about giving us feedback on issues we have asked her about."
Elmore is excited for what is to come; she feels as though her work has "been leading up to this point, it was the right time and everything worked out for me to move into this position."