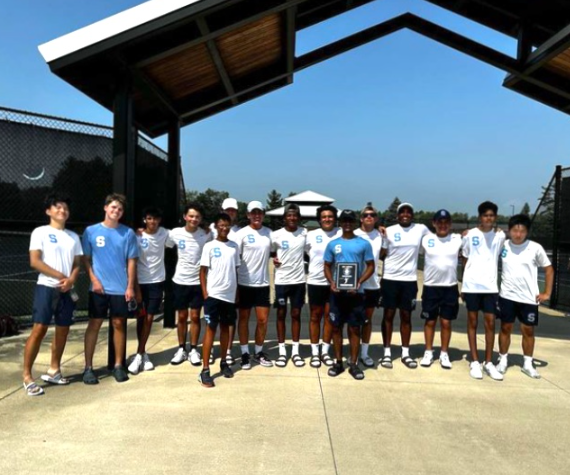 Coming off a terrific 2022 season ending with winning regionals, Skyline Varsity Boys' Tennis had nine seniors graduate.  This year, they faced dramatic changes in the team's roster and ended their season with making States.
Both Varsity and JV teams have played extraordinarily well this season. The teams ended with winning records with the Varsity team at 9-5-2 and the JV team at 9-3.
¨The season is going really well so far," said Varsity Head Coach Zosia Casterline early in the season. "We have a pretty new team.…we have a lot of new faces but things have been going really well.¨ 
The team roster is very young with lots of freshmen and sophomores, but they have exceeded expectations this year. ¨I definitely think we've been able to rebuild," said varsity tennis player Marco Rogers ('26). "We've had a pretty successful year so far.¨
Some would expect a team with a major percentage of first-year varsity players to have some struggles but that was not the case for this group. ¨We have a really new team,¨ said Casterline. ¨… making sure that all the players and pieces fit together was kind of something I was a little nervous about at the start of the season and it's going really well so far, so we'll just continue to build.¨ 
The Eagles have had big wins against big-name teams such as Huron and Brother Rice.  ¨We're doing well on overall winning," said Rogers. "Beating the teams we should, and competing against some really good teams like Greenhills so I think we are doing pretty well ¨ 
The team developed lots of chemistry with each other and played like one united group. They were very consistent this year and carried lots of momentum into Regionals at Pioneer High School coming in as the defending champions. 
The Eagles traveled across town for Regionals to Pioneer High School and got the job done. They tied for first place with Pioneer and prepared for States. During Regionals, second and fourth doubles both won their respective regions. Second and third singles also won their regions. Their season ended with a loss at States in Midland, MI. 
Junior Varsity
While the Varsity team had an extraordinary season, the JV team also had an incredible year. ¨We are the best in Ann Arbor I'd say,"  said JV Tennis Player Arvind Bharadwaj ('26). "We're really good and we win a lot of games.¨ 
The team is very focused throughout practices and is always trying to improve and get better. ¨We have six strong teams,¨ said JV Head Coach Chris Theriot during the season. "Last year the JV  team just barely came out on top [with a winning record] so I'd say we are playing really well….I think we got four, five, six players that could move up next year [to varsity].¨ 
The team always had an electrifying energy before a big match. ¨We are always trying to motivate people,¨ said Bharadwaj. ¨People are trying to motivate us as well and make sure we chant really loud, and even during games we try to motivate people a lot. We're just a really hype and exciting team.¨
The JV squad had some very memorable highlights this season including beating Pioneer for the first time in about ten years. "That [was] a great win,¨ said Theriot. 
Although the season is over for the JV Eagles, they exceeded expectations this year with their record sitting at 9-3.