Artists of Skyline: What are they up to?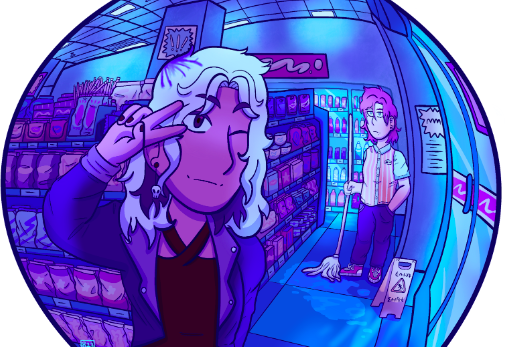 You never know when an artist may be hiding in the corners of Skyline. Lurking within the classes, hallways, and stairwells at any given time, there are lots of creative minds here at our school with plenty of talent to showcase.  Here are what just a few of the artists here at Skyline have been creating…
Ray Neiburger, a senior, is primarily a digital artist and animator. The varied line weight and vibrant colors he uses, paired with the typically blue and purple lighting is a distinctive part of his art style. His favorite part of the creative process is storyboarding, which, "…in animation, that's like when you make the really, really simple little comic panels, almost to plan out the animation of it."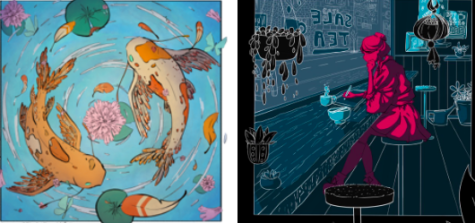 However, when drawing, his favorite step of creating an art piece are thumbnails because they're loose and simple. "I just have to have the idea in my brain, I don't really need to fine tune it yet," Neiburger explains. "So, I always like the earliest stages the best."
Adelaide Hamm ('26) specializes in digital illustration. In her artwork, butterflies, flowers, and wings are all elements that appear frequently, adding to the ethereal ambience of her pieces. When asked about these objects, Hamm explains their significance:  "There's butterflies, which symbolize hope, and flowers, which symbolize beauty. There's also wings, which usually symbolize freedom."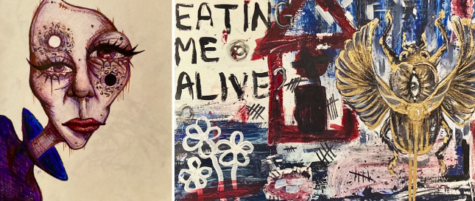 Hamm finds inspiration from the artists of Instagram and Pinterest, specifically painters and other digital artists such as KM Steere, JR's Arts, and Serena Malyon. "I really like looking at giant landscapes and those are really fun to draw too," Hamm says.
Dee Will ('23) is practically a jack of all trades – an artist who dabbles in all sorts of media types. Using nearly anything from colored pencils to paper scraps to old canvases that have already been painted on, they'll create a sight to behold out of anything they can get their hands on. 
As a former realist artist, Will explains, "I kind of hit a very hard contrast, because I was so involved in realism and making sure all these angles are right, and making sure it looks right." It was only this year when they started branching off into expressionism: "More feeling the art and less stressing about what it looks like."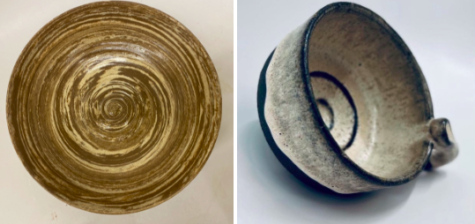 Quinn Bugala ('24) is a potter, spending their days on the wheel. They enjoy creating symmetrical round vessels, finding it therapeutic. Their pottery displays round edges and decorative patterns along the vessels' top and bottom. 
After primarily making pottery, Bugala has just dipped their toes into sculpture recently, finishing their very first sculpting piece. Being surrounded by talented friends and peers is what inspires Bugala in their work, as "…seeing their forms of expression really helped me find a means to express myself".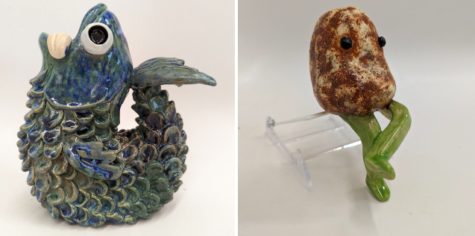 Aaralyn Huhn is a senior who is not only an expert on the wheel, but also with sculpting cartoony critters. In fact, as we spoke with them, they were in the works of sculpting a pocked-sized goose. They say that making little creatures provides "just a little bit of fun" for them. As for the wheel, they prefer to teach throwing, rather than doing it in their free time. Huhn finds inspiration for their work from all over the world and through all decades. 
When working with clay, they find themself thinking about the impact their work will have later on. They continue to say, "…it's funny to think about how your first piece is actually the most likely to survive and go to a museum, because it's usually your chunkiest, and bulkiest piece". Huhn also makes mugs, bowls, and other handy objects. An art piece that their family lovingly uses is a ramen bowl, but "…not like for authentic ramen but like the cheap little ramen bricks that can fit in the microwave." For the most part, their pieces lead an eventful life on their `lf watching dust balls roll by.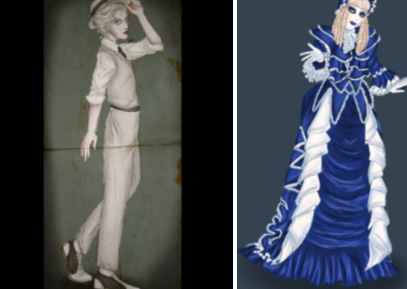 Max B. ('25) is a digital illustrator who mostly draws people and characters and says that they like "…drawing band members from bands I like and also characters of my own."
Their style is primarily based on fashion from the Victorian era.  "[I] love the clothing there," they remark. Along with being inspired by the past, they also pull from more modern styles, finding inspiration through the music they listen to on Spotify. Of course, they also use Pinterest, the beloved app of all artists.
Now that you've seen the masterpieces that a handful of this school's artists have been cooking up, doesn't it make you wonder who else has been lying low about their talents?