Defensive Line to Director's Office: Skyline AD Criswell Has Kept Community at the Center of What He Does
It was actually Jasmine, Andre Criswell's wife, who first came across the job listing for Skyline Athletic Director. Criswell, his wife, and their three children had been living in Ann Arbor for several years while working at University Prep Schools as the Network Athletic Director since 2018. 
At University Prep Schools, he oversaw the athletic programming for three high schools, three middle schools, and four elementary schools. "Staff, students, and parents loved him dearly," says Curtis Lewis, former Chief Academic Officer at University Prep Schools. "He's a man of integrity and works very hard. We were very disappointed to lose him." 
Criswell and his wife both attended the University of Michigan and Renaissance High School, a public magnet high school in Detroit that has a reputation as both academically rigorous and athletically outstanding. 
The Criswells' return to Tree Town came nearly two years ago. "We felt as if we wanted to be just more a part of the community," says Criswell. "I think my wife had a plan behind the scenes to get me back in Ann Arbor as well."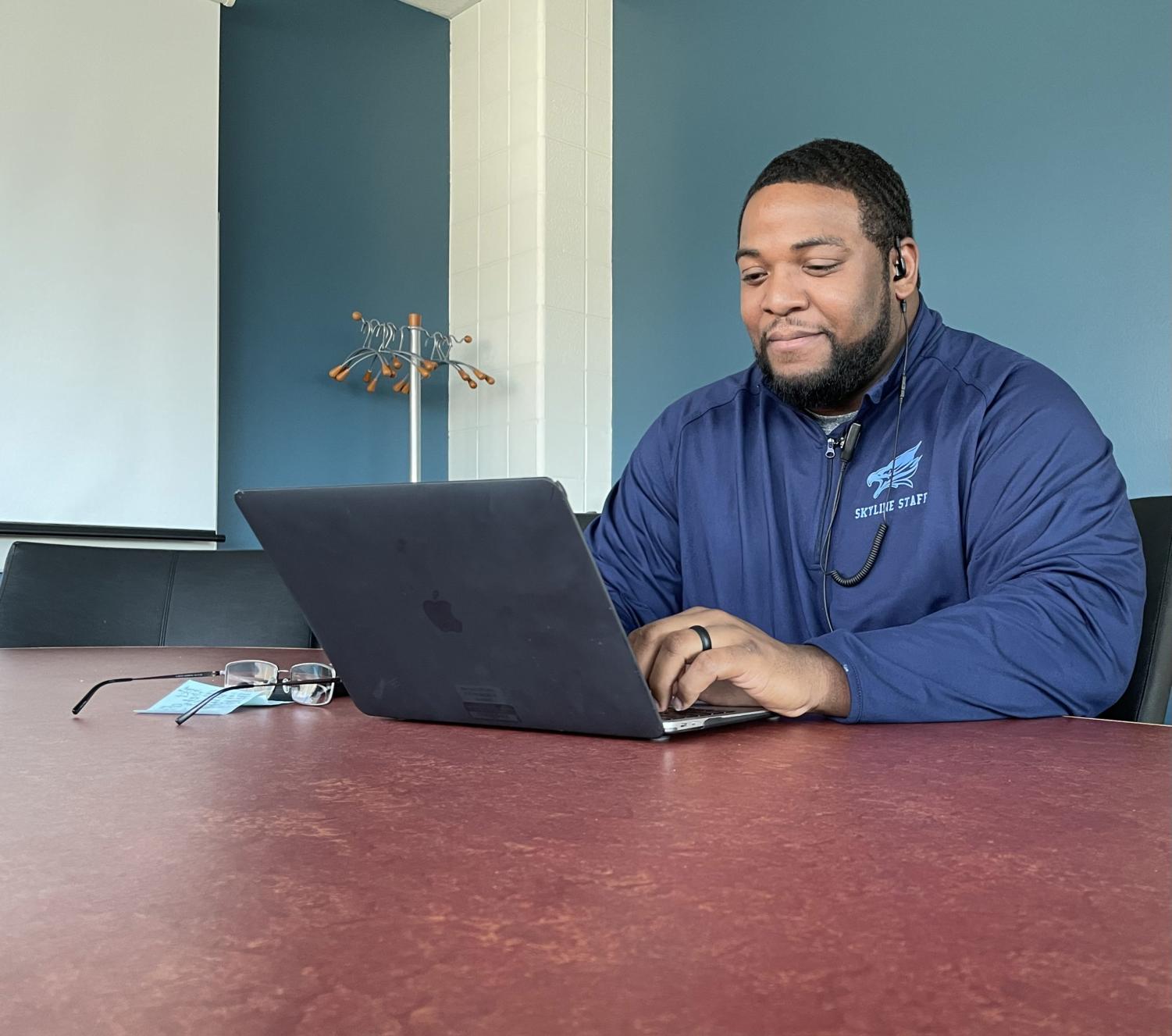 Criswell played football at U of M under then-Head Coach Lloyd Carr and was able to continue the high expectations on the field and in the classroom.  "U of M was always a dream," says Criswell. "High expectations and success in academics, as well as athletics, was appealing… Renaissance, for me, was that in high school; and so it was just great to see that U of M would be my Renaissance on the next level."
"When I saw him as an 8th grader I saw immediately what a great athlete he was," says Mark White, the Renaissance High School basketball coach at the time. "He was an elite combination of strength, agility, and skill. It was also obvious that he had an understanding of the game beyond his years."
But football was not on his original road map. "When I went to Renaissance, the goal was to play basketball and participate in band," says Criswell. "And as I went through a couple of weeks of summer workouts, I was asked to come over and try for football as well."
Football was not just a way for him to spend time outside school and basketball. "I was thinking [about] the long game and noticed that football, by the numbers, there are more positions, more opportunities," says Criswell. "So I pursued that even more heavily than basketball just because I wanted to go to college on scholarship."
Initially, Criswell hoped to play snare drum, and then later timpani and trap set as well, but he found the combination of athletics and jazz band unsustainable. "Around 5:30 AM were practices for jazz," says Criswell. "I took the bus to school and so a lot of times the bus wouldn't start running until around 5:30 or 6:00."
 High achievers surrounded Criswell at Renaissance. In 2004, Renaissance claimed a 100 percent acceptance rate to a four-year college or university.  He balanced academics and athletics to great success. There was "constant emphasis from the coaches to make sure that we were not giving priority to athletics," says Criswell. "[C]oaches exclaimed how important it was in order to attain scholarships, or even just going on to the next level for general education."
"He always displayed the highest character. He was a caring, unselfish teammate and leader," says White.
On a recruiting visit to U of M, Criswell had a conversation with Carr. "[T]he first thing he mentioned was that my coach from high school told him…that I had great character," says Criswell. "I would have expected to talk about football, but it was directly tailored towards a conversation around my personality, character, and what I wanted to do in life."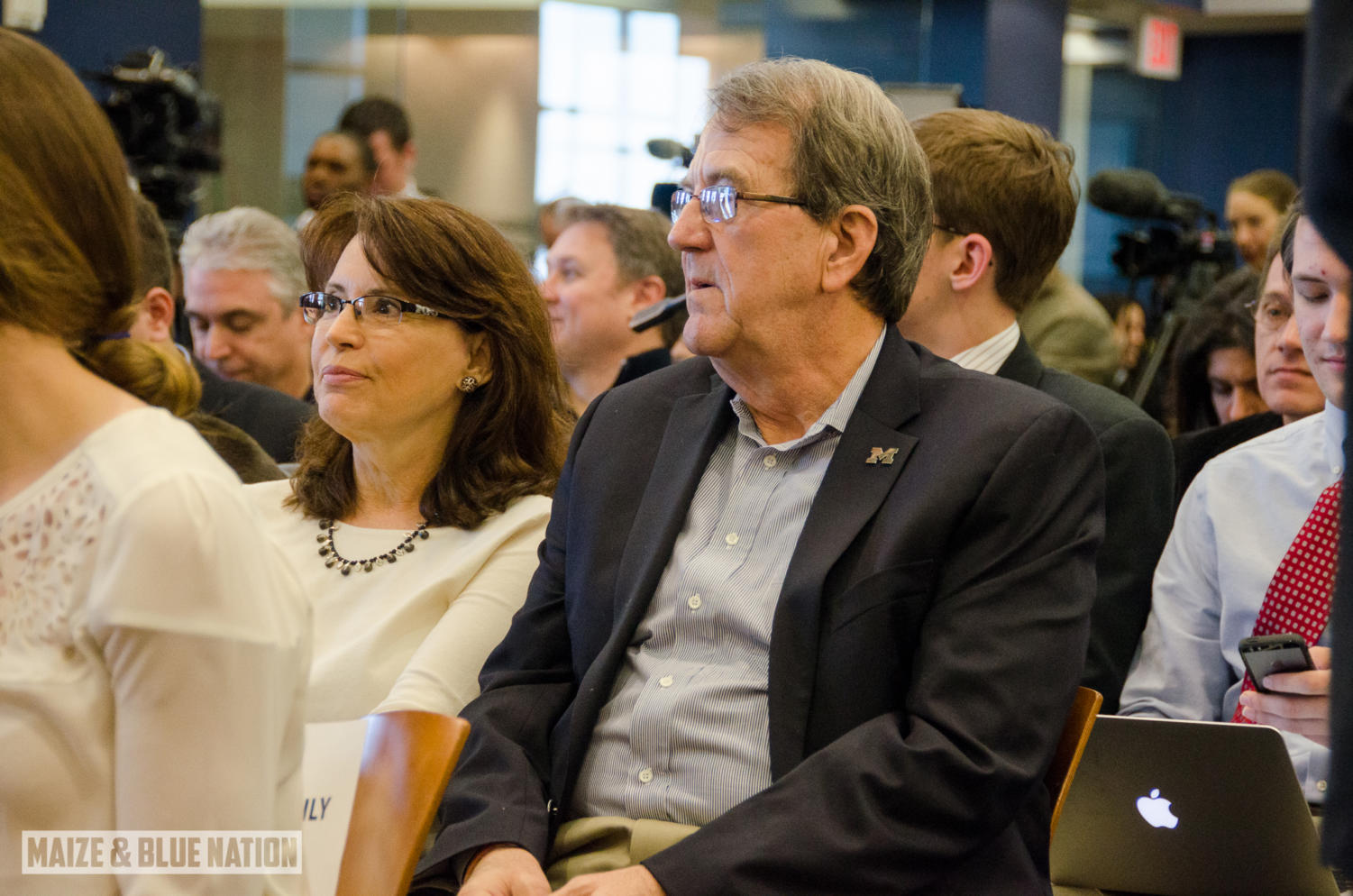 He went on to play for Carr for three seasons. "He [Carr] was a great father figure and coach, and it wasn't always just about the winning and losing," says Criswell. "It was always about primarily making sure that you're preparing yourself for life in general."
Playing in the Alamo Bowl, Rose Bowl, and Capitol One Bowl while lettering for all three seasons, Criswell was a three-year letterman for the Wolverines. "[He is a] great person, tremendous worker, and one one the best leaders for his position," says Fred Jackson, longtime Michigan football coach.
"Andre is a true champion in every sense of the word," says White.
Criswell had suffered a torn labrum and recurring shoulder issues prior to his career-ending injury. "I was in practice and going through a defensive line activity and during contact with another player my shoulder 'popped,'" says Criswell. "My arm went numb and I received medical attention which led to surgery the next day….I was planning to try out for the NFL during pro-day at Michigan but I was not in the right mental or physical state after the injury." 
Post-injury, Criswell transitioned to being a student assistant coach his senior year. While some might not be able to take on a role like that with their former teammates, for Criswell, "it kind of came very natural, and the dynamic, it was not awkward or anything of that nature," says Criswell.
Criswell has developed the many skills he learned in football, including how to perform under intense pressure. "I don't believe there was one time that I was nervous," says Criswell. "[B]ecause of the way that you practice and prepare, you're focused on the game plan, and you're zoning pretty much everyone out."
He also attributes both his organizational skills and his grit to football. "It's more important to try to continually improve yourself."  
While pursuing undergraduate degrees in Psychology and African-American Studies, Criswell interned at NSF International, an Ann Arbor-based standards, certification, and public health company. There, he assisted with project management in several departments. "That was a great experience with me just because it gave me my first real-world experience of the corporate life."  
Post-graduation, he took a full-time position at NSF while pursuing a master's degree in social work, working in academic support for U of M athletes, and interning as part of his degree. After all of this, he initially planned on getting a master's in business administration but "I burned out towards the end of my grad school career," says Criswell. "I delayed going directly into the MBA and what that meant was I did a pivot."
That pivot sent him on a new career trajectory in school social work. "I have not thought to go back into business just because I was really enjoying…what I've done and also start[ing] to grow my family," says Criswell.
From there, his superiors pushed him into administration despite his misgivings. "I really didn't want to just because I wanted to continue on that development and growth within social work and also just have that direct impact with the students," says Criswell. And yet, he found he "was able to have a bit more influence or reach when I was in admin versus social work."
Having made it through interviews and performance tasks conducted by the Skyline Administration, the superintendent and "a committee of individuals representative of each level and stakeholder group" decided on Criswell for the job of Athletic Director in the Summer of 2022, per principal Cory McElmeel. 
"He is hungry to continue to learn more about Skyline and how his leadership can enhance the outcomes for our student-athletes," says McElmeel. "We are excited for him to join our team and for him to continue to lead our eagles to soar."
And now, he is back in Ann Arbor, having been an administrator for nearly a decade. "I understand that K-12 athletics or educational athletics is tailored towards making sure that there's learning and reinforcement of what's going on in the classroom," says Criswell. "This is an opportunity [for the students] to learn more about themselves."
There is a lot Criswell hopes to bring to Skyline. "I do know that I want to make sure that there's a sense of community and family within the athletic department," says Criswell. "I want to make sure that there is a sense of connection with the Community."
Criswell's hiring seems to have gone over well in the Skyline Athletics community.  "Andre Criswell is the fifth athletic director I have worked under in 15 years at Skyline," said Skyline Swim Coach Mo-Jo Murrett, "I really appreciate the way Andre asks a lot of questions and reflects on your answers without judgment, or expectation. I have felt supported from day one."
Criswell is continuing efforts to create a Student-Athlete Advisory Council. "Our students are customers and it's important for us…to really listen," says Criswell. "I just love that sense of having the student's voice drive what we do…and if that was not a part of what we did here…I wouldn't be here."
While he so far has played more of a behind-the-scenes role for most students so far, students that have taken the time to connect with him have come away with positive reactions."He is a very good man who cares about each of us [students]," says Skyline student-athlete Soren Nielsen.
Success is difficult to measure but is in front of his mind. "My idea of success is that it's not always the numbers…but more so of the impact that the athletic programs can have on the development of our students and families," says Criswell. "We want to make sure that everyone is just really enjoying what we're doing here and have a sense of pride in what we're doing here because it's important and we are truly having an impact on the future." 
While his old boss was disappointed to lose Criswell, Lewis "know[s] he will continue to do great things in Ann Arbor."