2022 Fall Sports Round Up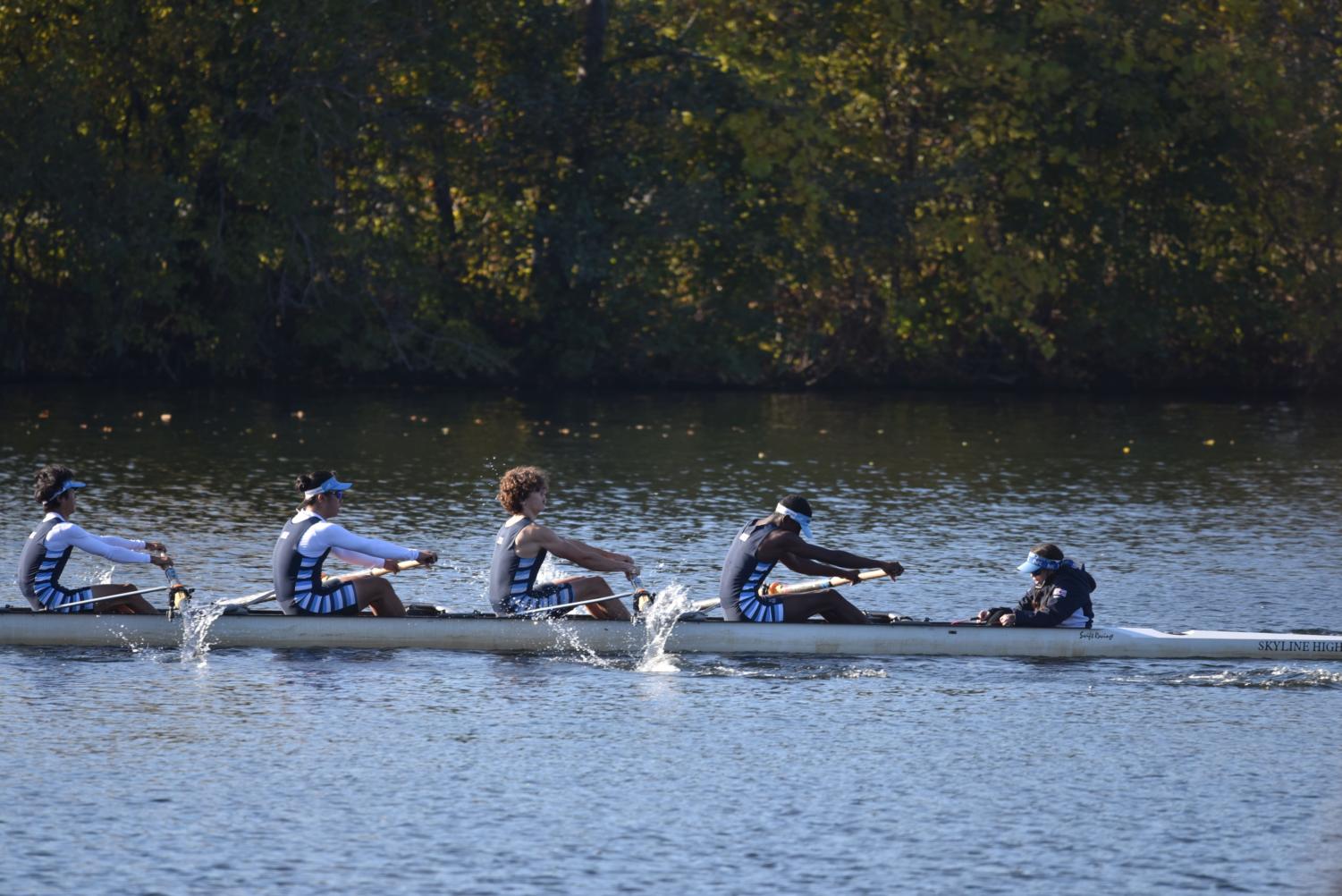 Boys' Crew Had Fantastic Overall Season, Looks forward to Spring 
By Nate Werns
The Skyline Boys' Crew made many improvements and changes in the Fall season, represented by their event results. "The Boys' team made some great technical changes over the course of the season," said Skyline Crew coach Kit Bennett. "The majority of our crews placed in the top 3 of all events this past Fall." 
The team performed well, and there weren't many failures that came from the season. "There was a high level of enthusiasm and commitment from the athletes," said Bennett. "They did a fantastic job."
The team is looking forward to the Spring competitive season, ready to recapture their State Championship, go for first at Midwests, and perform at Nationals in multiple events as they often do. "The athletes are going to do some training over the winter so we can hit the ground running for the Spring," said Bennett.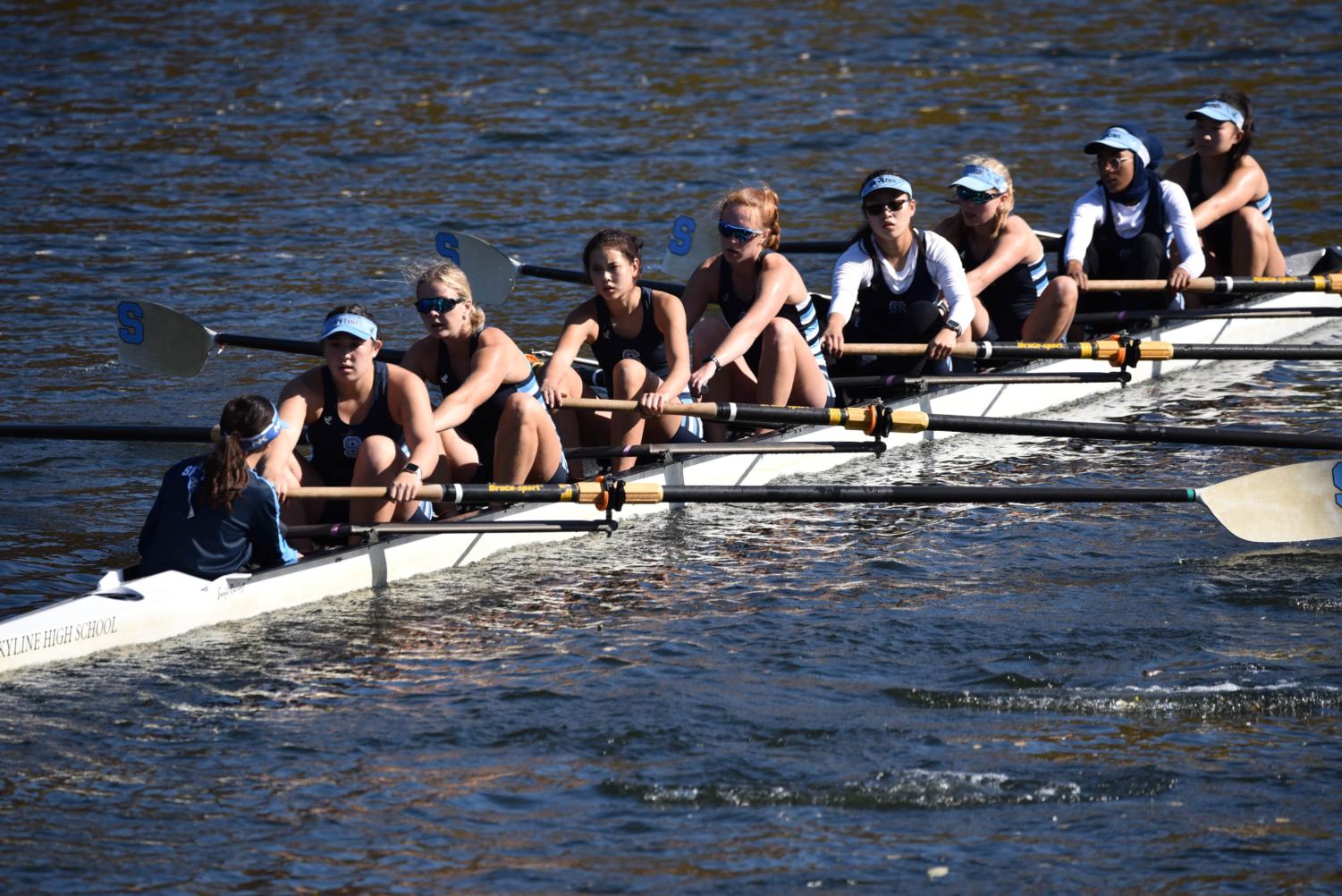 Girls' Crew Lays Foundation for Success in Fall Season 
By Nate Werns
The Skyline Girls' Crew went through a lot of development during the Fall season. The team reached Bennett's expectations for them, "The athletes competed and trained at the level we expected, very consistent throughout," said Bennett. "We love Fall as it gives the group a slower paced approach to improvement, which pays dividends in the Spring when we will compete at States."
Despite the Fall season being slower paced for the team, there were still a lot of positives. "Girls Varsity Eight and Fours were undefeated, setting great groundwork for the Spring, our major racing season," said Bennett.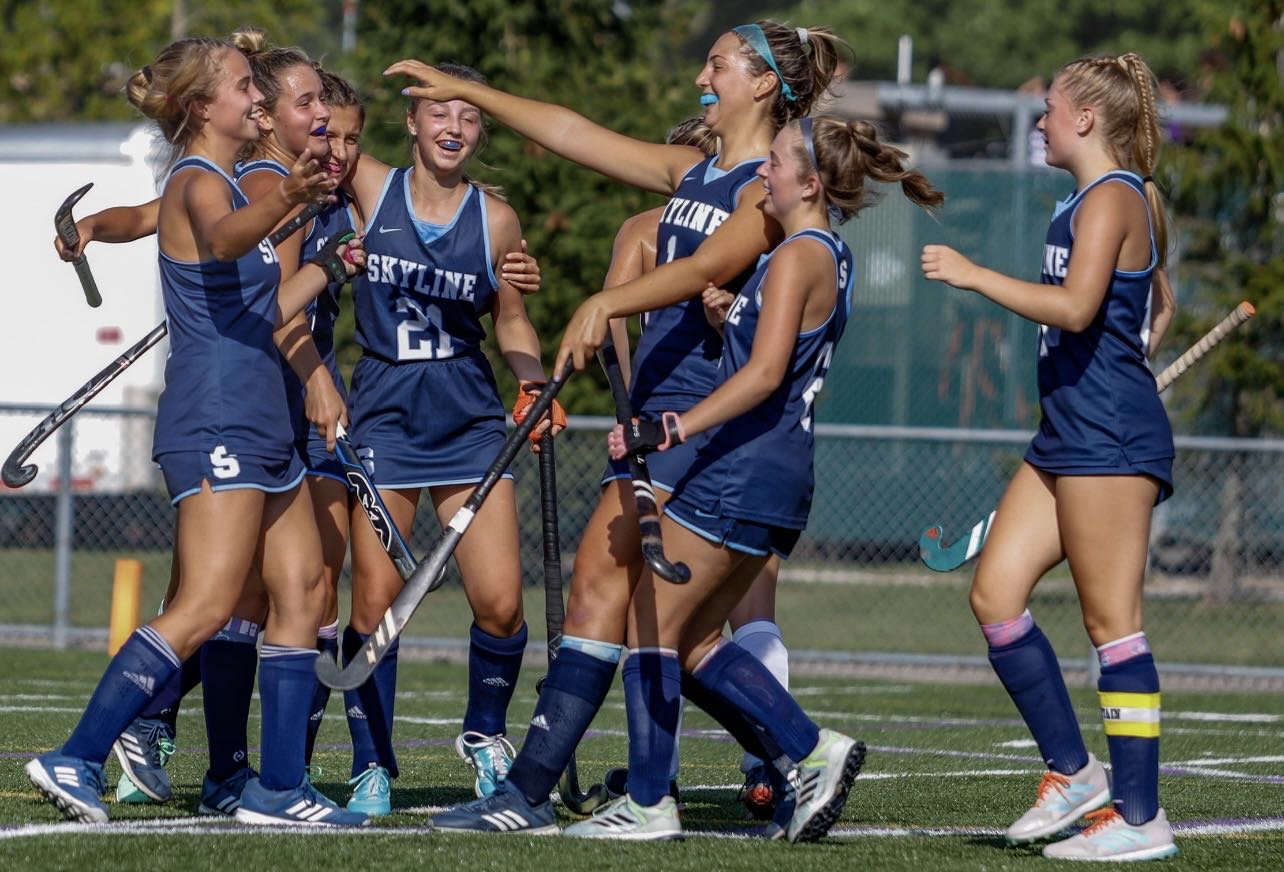 Girls' Field Hockey Finishes Second in Michigan to Pioneer
By Nate Werns
The Skyline Girls' Field Hockey team lost to Pioneer in the state championship, despite going 16-4-1. "I think we became the best team in the state," said Skyline Girls' Field Hockey coach Nicole Barrett. "Unfortunately, [in] the state playoff final game, we came up short, but that doesn't mean that all the work we did was nothing."
Barrett still believes this was a great season for the team; a season in which a lot was accomplished. "I think everybody walked away from the season learning something, either a skill, field hockey related or a life lesson," said Barrett.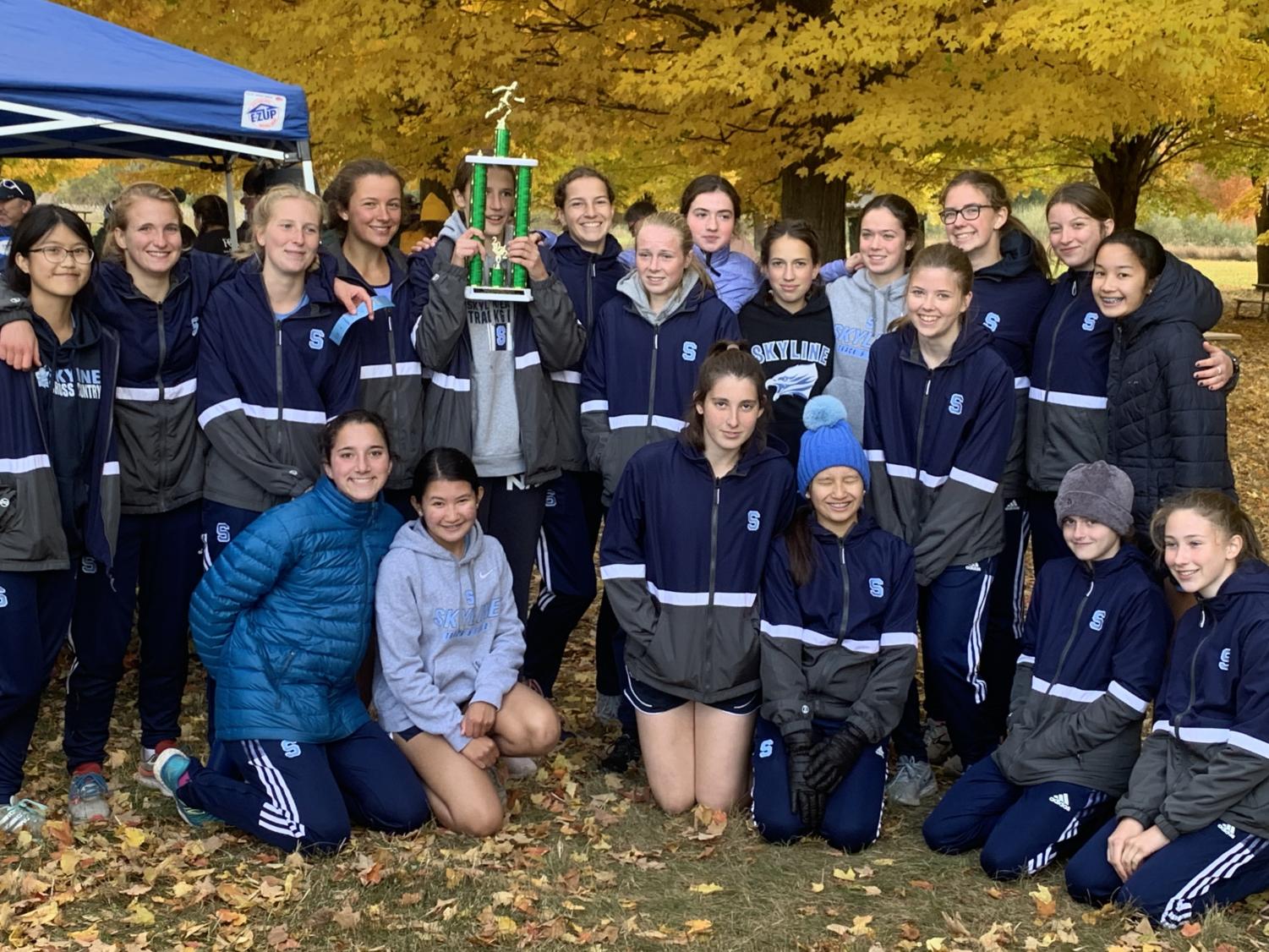 Girls' Cross Country Places 7th in State
By Nate Werns
The Girls' Cross Country team was ranked 10th going into the State Meet on November 5th. Kessler had high expectations before the season even started, knowing the team's potential. "I knew coming into the season that we were going to be the best team ever in Skyline history, and we have been," said Kessler before the State Meet. "I think there are some teams ranked ahead of us right now that we can definitely beat."
Despite brutal conditions, the team placed the highest in Skyline's history. "[The Girls' Cross Country team] faced wind gusts of 40 mph," said Girls' Cross Country coach Serena Kessler. "[We] finished 7th out of 28 division 1 teams at states."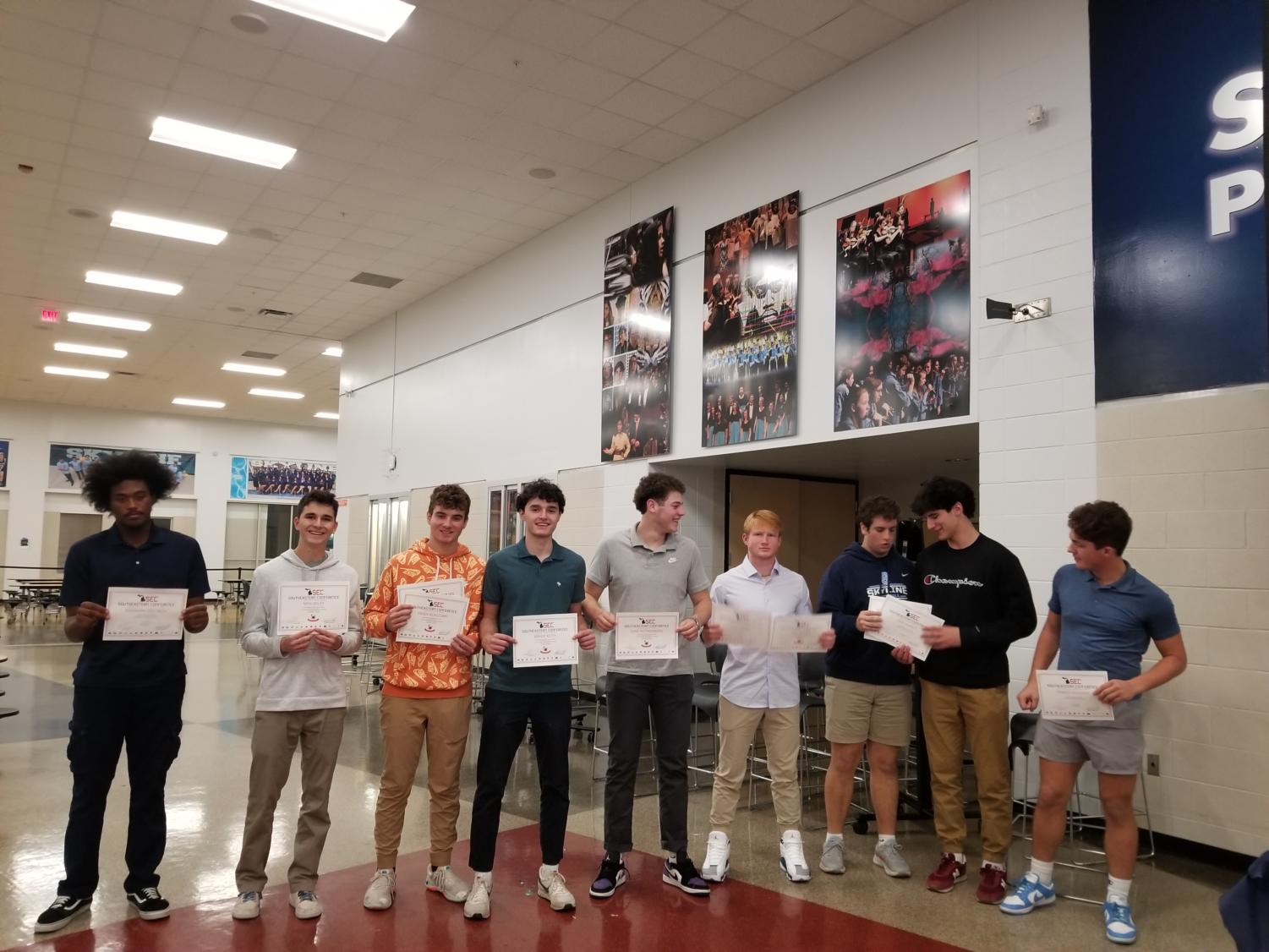 In Spite of Shortcomings, Football Gives Valiant Effort Throughout the Season
By Will Pace
For the Varsity Football Team, there were several moments on the field that were positive for them in the midst of their 0-9 finish.  One such moment was Ish Abdulaziz's ('23) 92 yard kick return touchdown in the Pioneer game, another was the slim three point loss to Adrian Madison in their week 9 game. 
The only thing missing was that win to turn the ship. "Obviously not being able to get a win is disappointing, but there was growth," said coach Broderick Smith Sr.
Smith thought the team was close to winning in multiple instances, but highlighted places in which they just couldn't get it done. "It was frustrating, because we knew if we had our guys, we could've done some things," said Smith.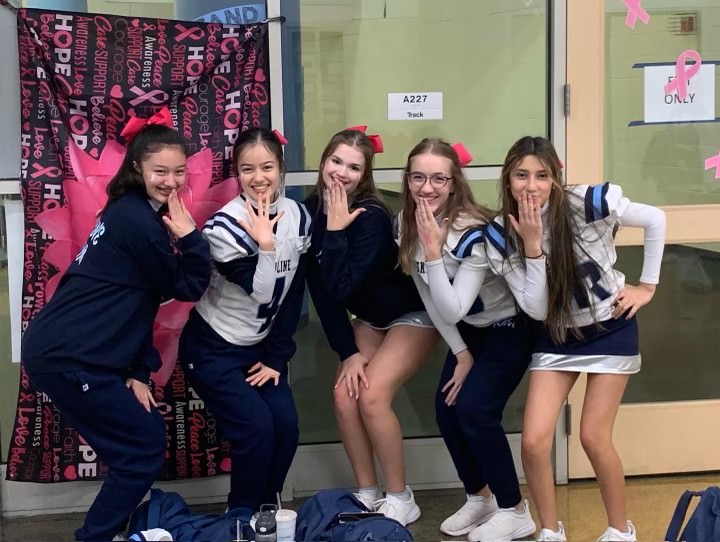 Pompon Continues to Raise Spirits Despite Coaching Challenges 
By Will Pace
This year, the Pompon team faced adversity. "This season was very tricky," said Team Captain of Community Outreach and Finance Petra Bora. "Our original coach quit, so we had to figure things out without a coach for a bit. Luckily, my mom stepped in and became our coach."
Despite this challenge, the team stayed strong and had a very successful season, helping bolster both their problem solving abilities and their bond as a team. "I got to get close to a lot of the girls, and we got to figure out how we best work together as a team," said Bora. 
They continued cheering on Skyline's other teams while facing their own unique challenge, and improved as a team in the process. They look forward to continuing to cheer on their fellow Eagles this winter season.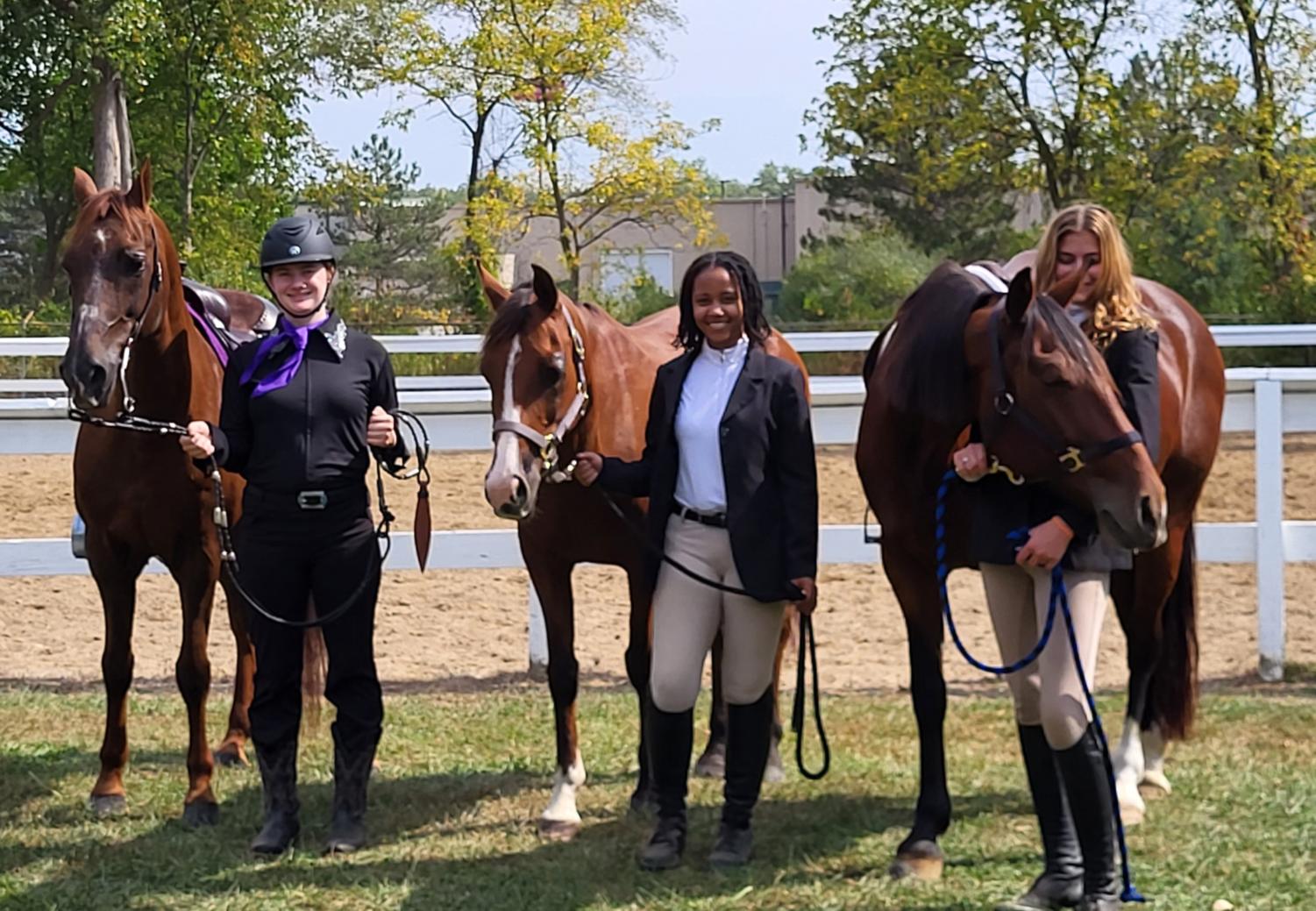 Equestrian Displays Exponential Growth While Gaining Valuable Experience
By Will Pace
Coming into this season, the Equestrian team lacked the experience to seriously compete, but they had their sights set on something bigger. The team was mostly made up of students with just a year of experience and ended up finishing in 4th.
However, the results do not reflect all of the challenges that the team battled and overcame together. "I wasn't sure what to expect in 2022, but the team surprised me by stepping up and taking charge from the first meet," said coach Julie Fleming.
The team came within 3 points of 3rd place during their second of three meets and made strides towards being better. "It's all about learning and growing in both skills and mental toughness," said Fleming. "The team is making great strides in their abilities, and their confidence and camaraderie was super."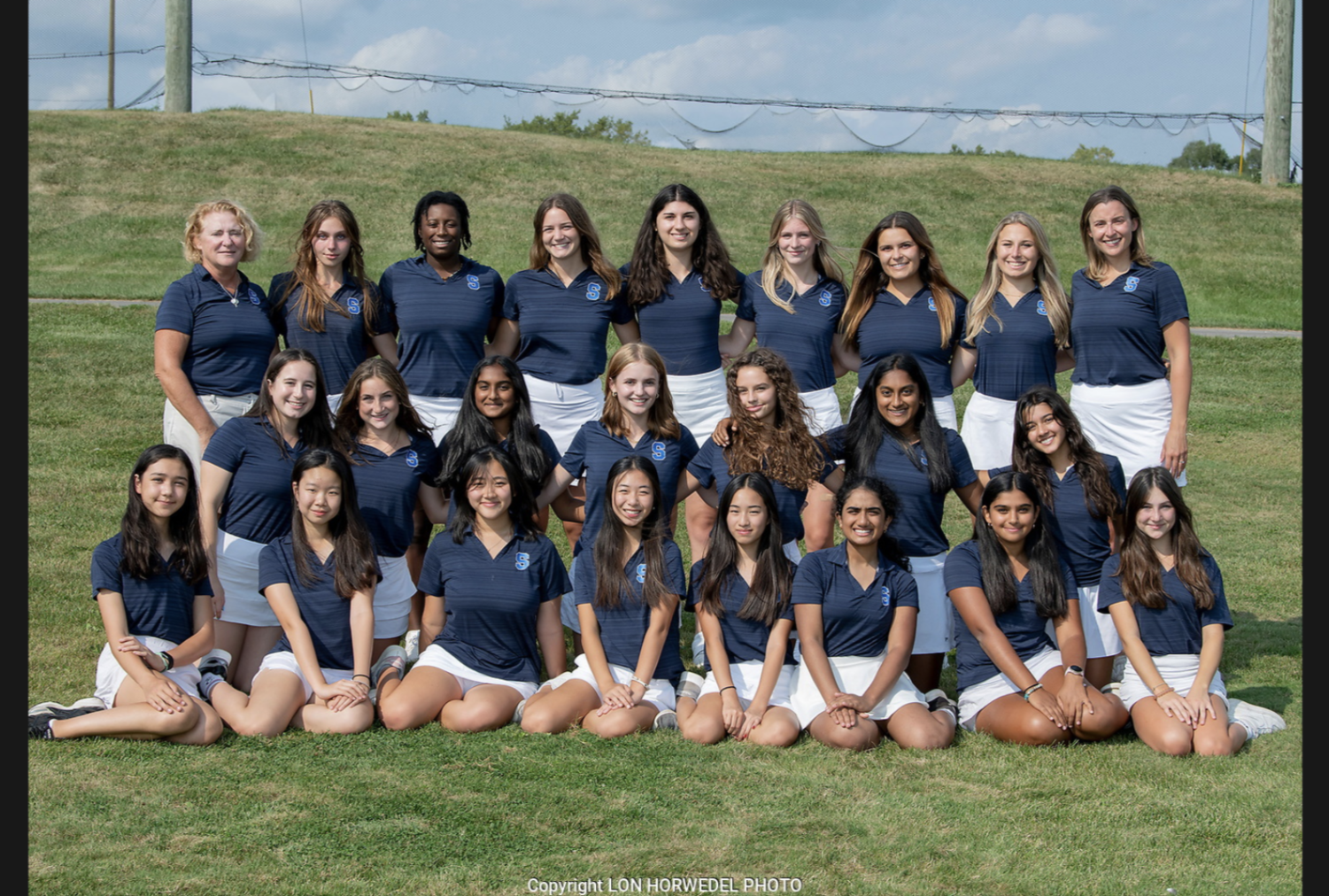 Girls' Golf Sees Vast Improvement During One of Their Best Seasons to Date
By Will Pace
This season was a vast improvement for the Girls' Golf Team, which could be seen in multiple areas. The team participated in tournaments before SEC matches started. Many members reached new personal lows (a good thing in Golf) throughout the season. "Their attitude and personal growth on and off the course really improved and I saw a team that genuinely enjoyed each other," said coach Melissa Schmidt. 
Qualifying for states was top of mind for a large portion of the season, and that goal was attained when the team qualified for states and earned the title of Regional Runner-up.
The team went on to finish 12th in states, achieving a goal they had worked so hard for. "The team went to states and had a change over with coaching and they had an amazing season," said Schmidt. "Very proud of these young women."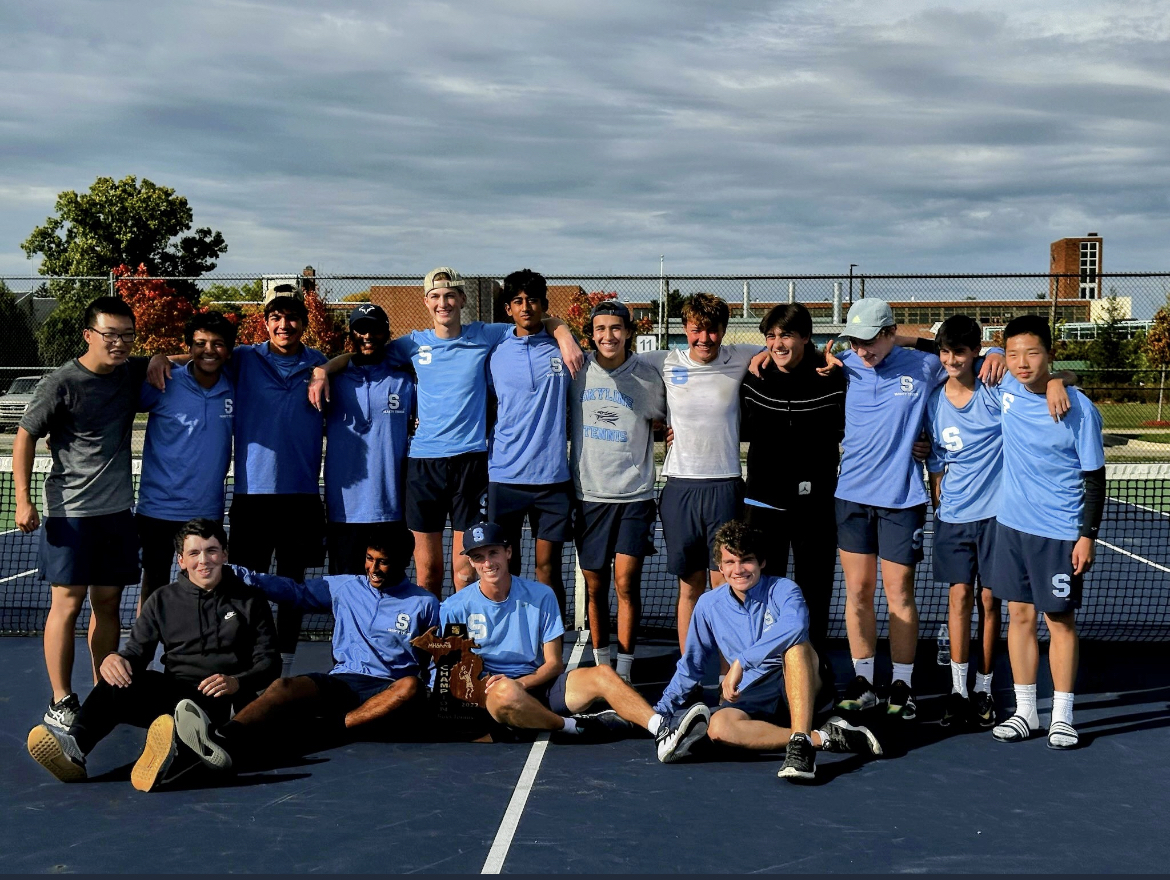 Boys' Tennis Beats Pioneer for First Time Ever, Wins District Trophy
By Ryan Rzeszut
The Skyline Boys' Varsity Tennis Team had a very successful season, spotlighted by their first-ever win over Pioneer. The team, led by captains Anthony VanOyen ('23) and Arya Joshi ('23), won many matches over the course of the regular season as well as a Quad tournament in Brighton and the District Tournament.
From day one, the team was very confident that they could have a productive season and win critical matches. "This year more than any other year, we [believed] we could win," said Coach Zosia Casterline. This confidence carried all the way to the end of the season as the team won the district trophy and a few players won matches at the State Tournament in Holland.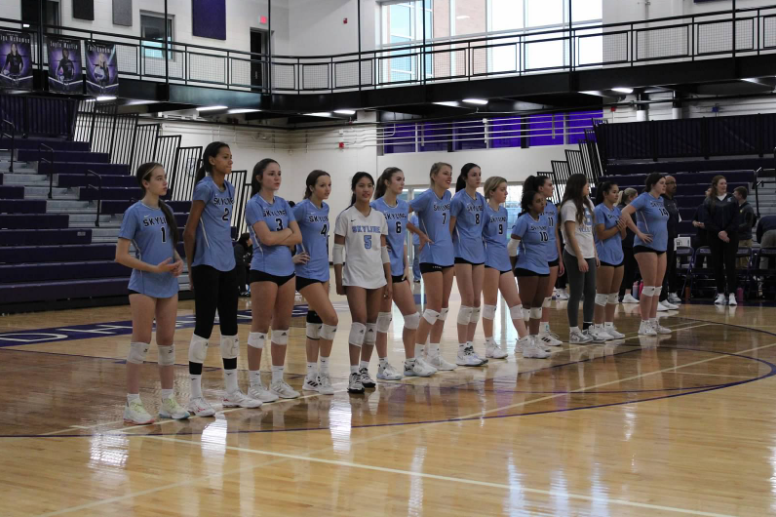 Girls' Volleyball Has Successful Season With Completely New Lineup
The Skyline Girls' Varsity Volleyball Team performed well throughout the season, finishing with a record of 39-8. The team finished the season by winning the district tournament and making it to the regional semifinals. 
The team overcame the difficult task of starting off the season with a new lineup. "In the beginning of the season I was so excited to start and was very nervous because we were going to have a completely new line-up than we did last year," said Chelsey Hewett ('24). As the season went on, her nerves went away completely because "even though we were a new team, we worked everyday in practice to build our chemistry and skill set."
Even though the season ended sooner than they had hoped, the team took positives from the season. "We are all so proud of each other and know how far we have come since the beginning of the season in August," said Hewett. "I couldn't have asked for a better season with this team."
Boys Soccer Falls Short in District Semifinals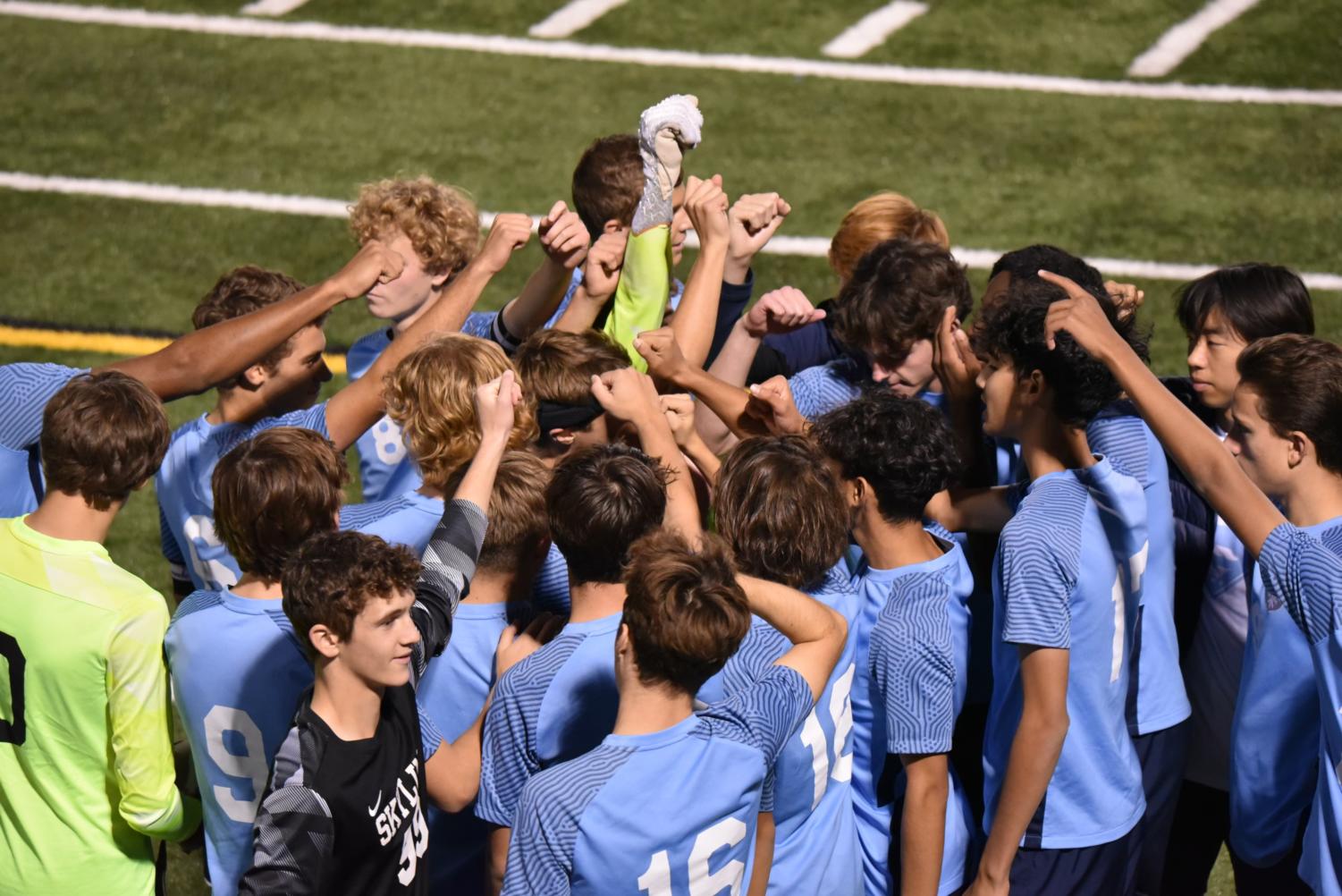 By Graham Unsworth
The 2022 Varsity boy's soccer season was full of ups and downs. A slow start resulted in 3 losses by the 1st of September. After that, however, the team went 7-0-5 the rest of the regular season with hard-fought games against top-ranked opponents Detroit Catholic Central and Northville resulting in a 9-4-6 record.
Districts started with the Dexter Dreadnaughts, where the Eagles dominated the first half and were propelled to a 1-0 victory by a left-footed strike by defender Zach Clatterbuck ('23). 
Next up was Pioneer, whom Skyline had tied 0-0 twice this season. The close-fought match saw Skyline come into the final minute 0-0. With 30 seconds left, a header from a Pioneer forward found the back of the Eagle's net to beat Skyline 1-0. 
"We faced lots of adversity throughout the season and it pushed the boys closer together," said Captain Connor Alderman ('23). "Disappointed with how the season ended but it was a fun last ride."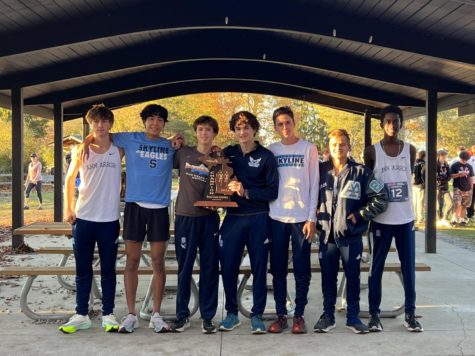 Boys Cross Country Leads a Consistent, Strong Campaign to a Regional Victory
By Graham Unsworth
The boy's cross-country team had an impressive season. Captains Nico Fry ('23) and Chris Van Lent ('23) led the team, while Luke Suliman ('24), Aidan Hale ('23), and Mason Jett ('24) were workhorses for the Eagles throughout the Fall.  
"We didn't have a particularly strong start to the season," said Fry, "but took off after our team's first-place finish at the Jackson Invite in late September." After that meet, the team jumped to 4th in the state rankings and never looked back, staying in the top ten the rest of the year.
The Eagles went into the postseason confident and ready. It showed in Regionals as they took home the 1st place title but fell short in the state finals finishing 21st.
Boys' Water Polo Closes Regular Season 21-14, Enters State Tournament as Number One Seed
By Lucas Caswell
With their season highlighted by an overtime sudden-death victory over Pioneer, the Boys' Water Polo team is 21-14 so far. "[O]ur approach has been to play as many of the best teams we could,"  said Coach Ashley Hower, "to make sure we got that valuable experience against the teams we knew we would have to get through at States."
The loss of goalie Ian Root ('23) to injury was just one of the hurdles the team overcame. "We've struggled with a small roster, very few subs, illness, and injuries taking people out of big games, but we always rebound and come back stronger," said Hower.
The team entered the state tournament as the top seed on their side of the bracket after winning the East Regional Championship over Pioneer. They dropped to 5th place after a first-round loss to Jenison. "[W]hatever the outcome, I am completely in awe of these athletes and what they have accomplished this season," said Hower before States.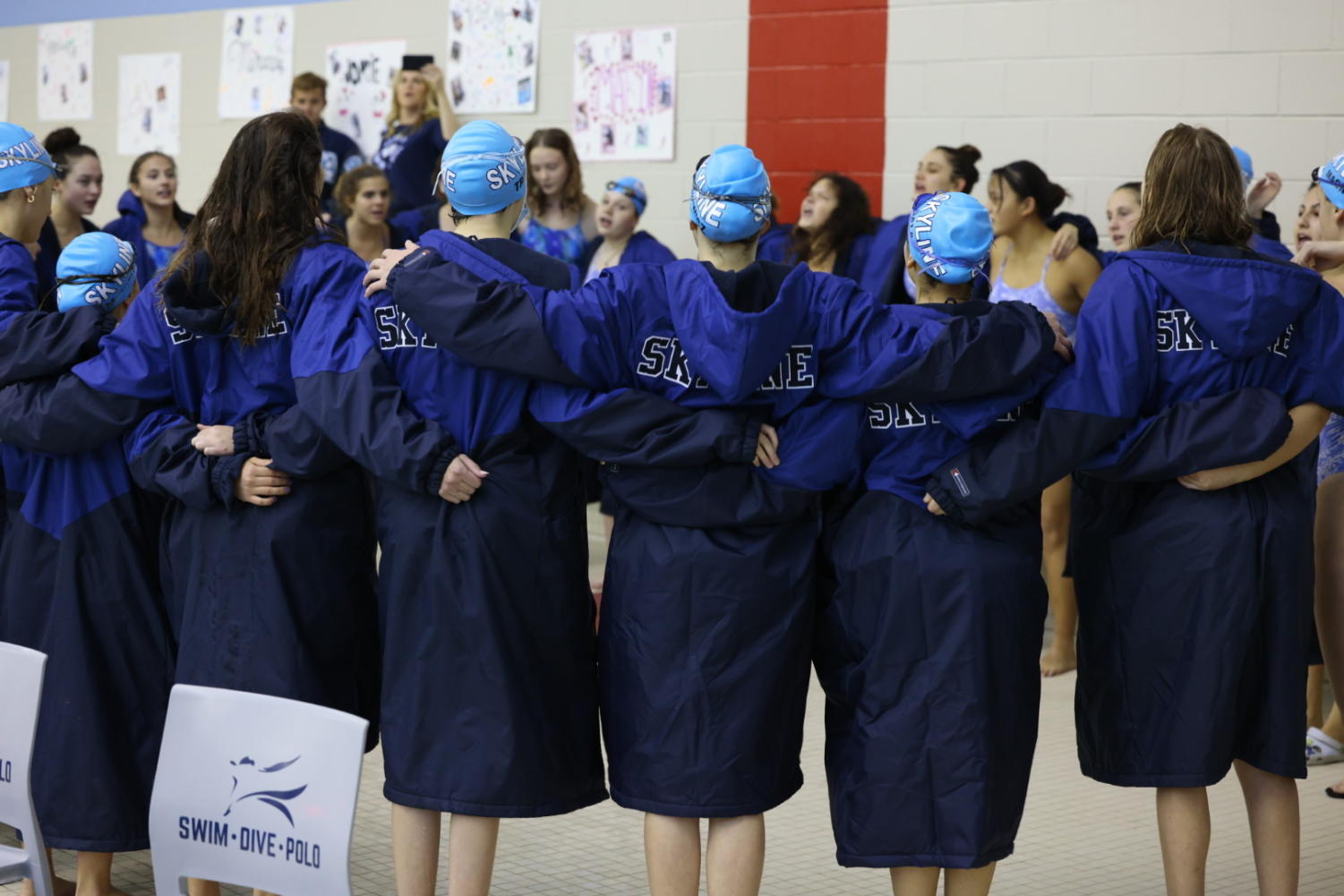 Propelled By Strong Leaders, Girl's Swim and Dive Ends Regular Season on High Note
By Lucas Caswell
Finishing 2nd at conference championships, their highest finish since 2018, Girls' Swim and Dive ended their regular season 9-2. 
"This has been a huge learning year for many," said Coach Maureen Murrett.
Murrett praised the captains Lily Cleason ('23), Maddie Robbins ('23), and Shannen Lee ('24) for their strong leadership. "This season has been more focused on the team and the overall experience," said Murrett.
Then the team went to the State championships on November 18 at Calvin University. "[W]e want to get all 3 relays in the top 8 and finish in the top 4 teams," said Murrett beforehand.
Cleason, who broke a school record earlier this year, defended her 100 backstroke state title. The Medley relay paced 9th, the 200 Freestyle relay placed 11th, and the 400 Freestyle relay placed 6th.