Following Sophia Morgan and Her Recruitment Process
All eyes were on senior and captain Sophia Morgan as the spring soccer season kicked off with Skyline's first conference game against Dexter. In the last minute of the game, with her non-dominant foot, Morgan curled in a goal for the Eagles off of a corner kick for Skyline to take the win 3-0. 
Morgan, who plays center-mid, committed to Grand Valley State University for soccer in January. According to Morgan, this long process started with the influence of her Dad, Christopher Morgan, coach of the Skyline women's soccer team in middle school, when her dream of playing soccer in college started to become reality. 
Sophia Morgan's club soccer team, The Michigan Hawks ECNL team, was the main factor in the recruiting process. Through this team, Morgan started attending college camps and showcases in her freshman year. College coaches attended these camps and showcases and got to see Morgan as well as other recruits in person. Prior to her junior year, reaching out to coaches was all through email or in person at a showcase event.
At first, Washington University in St. Louis, and Xavier University in Cincinnati were Morgan's top choices. However, when the head coach at WashU decided to take a new job at Grand Valley, Morgan switched her focus over to GVSU.
COVID-19 was a challenge during Sophia Morgan's recruitment process. The 2020 high school soccer season was lost as a result of Covid. Due to this Sophia was unable to gather highlights from game film, and showcases were pushed back. Another effect of Covid was that college players were able to do a 5th year which decreased open spots. Despite Covid, Morgan was still able to show what she was all about through past seasons.
Morgan plays center back for the Hawks. However, she will be playing center-mid for GVSU, the same position she plays for Skyline. From footage of high school seasons and club soccer, she was able to take highlights to create something that shows who she is as a player for GVSU. 
Recruiters loved Morgan's skills and ability to see the field. She has always been a smart player, but what stuck out to them the most was her attitude on and off the field, which distinguishes her as a player. Once GVSU saw her competitive personality, leadership, and her craving to win, recruiters knew they wanted her as an addition to their team.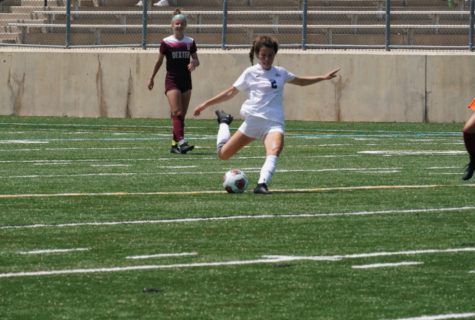 Balancing a sport and other extracurriculars can be tough. However, Morgan explains, "setting up my weekly and daily schedule" is how she juggles everything. Morgan also finds joy from being so organized and said, "I like writing out my to-do's and the activities I have on my agenda." While still keeping up in school, throughout this difficult process, she has a lot of support behind her including a loving family, a boyfriend also continuing soccer in college, and a group of good friends. 
Visiting Grand Valley State really sealed the deal for Morgan. Besides her very strong relationship with the coaches, she loves the campus, is able to have her own apartment, and likes the fact that she is not too far from home. Another big factor in her commitment to Grand Valley is the winning culture in place. The Grand Valley State's Women's soccer team is fresh off of a division II National Championship. Apart from soccer, Morgan is also hoping to pursue an academic career and go into the nursing program. 
Morgan's piece of advice for athletes wanting to undergo the recruiting process is to "Have an idea of where you want to go but also don't be afraid to go out of your comfort zone. Do not expect to be loved by everyone. Accepting the no's is the hardest part but most important." The Skyline community is excited to see the next step in Sophia Morgan's journey and the soccer team wishes her the best of luck next year.