Skyline Track and Field: What to Expect This Upcoming Season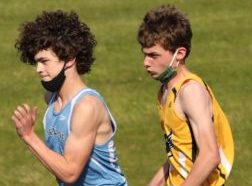 Nico Fry taking the lead (Suzzane Divine) 
The Spring Season brings floods of new sports, fresh out of winter pre-season training. And with this, of course, comes track. With a massive team and dozens of events, track is, well, hard to keep track of. So what's going on behind the scenes this upcoming season? Who should we be keeping an eye on? What is the track team's record and what can we expect this year to look like?
With a program that has produced successful athletes, we are sure to have high expectations for the upcoming season. Boys' Coach Michael Lyall remarked that "My goal as a coach is to get the most kids out for our sport." 
Girls' Coach Serena Kessler explained her field of expertise; "I specifically coach distance runners. For my specific group I'm coaching, I'd like to take a relay to states like we did last year. I'd like to have more individuals qualify for states than we did last year." The Skyline distance crew "[has] been the strength of our team," Lyall remarked later, saying the Kessler family played a large role in that. The Kesslers are a big running family. Both Serena and Mike Kessler are head coaches for the Skyline cross country team, Mike the boys' coach, and Serena the girls' coach. Serena Kessler also has attended the Olympic Trials and qualified for multiple other events. Their son, Hobbes Kessler, is a professional runner who attended the Olympic Trials and has a signed deal with Adidas. Natalie Kessler, a junior at Community High School, is one of the cross country team's fastest runners, with a personal record of 19:13.20 in the 5k. Natalie also is a pole vaulter for the Skyline Track and Field Team. 
So we know the overview of what to expect. But what about athletes? Who can we expect to stand out this upcoming season? In response to this question, Lyall listed sophomore Luke Suliman, juniors Nico Fry and Christopher Van Lent, and Seniors Sanjay Rao and Alex Ball as highlight players to look out for this Spring. On the girls team, Kessler listed sophomore Allison Mayer and senior Sydney Cunningham as players to keep a lookout for. Cunningham is a Senior and leader of the sprint crew, Kessler explained. Mayer is a sophomore "[who] is running really really well right now." Mayer was on the Cross Country State team last Fall, finishing with a time of 19:13 for the 5k, which is a total distance of 3.1 miles.
On and off the track, there are always athletes that take on large leadership roles. In the incoming season, who will be the captains? For the boys, the captains are Sanjay Rao and Christopher Van Lent, although Lyall is considering adding a third. For the girls, Cunningham leads the sprint crew, and Seniors Nadya Babushkin and Caitlyn Donnally lead the distance crew. Babushkin and Donnally were both captains on the Cross Country team last fall. Kessler also mentioned that junior Emily Green "has taken on a leadership role" during the ongoing indoor sprinting practices. 
While people generally pay more attention to upperclassmen within sports, there are often many incoming freshmen the coaches have high expectations for. Lyall noted that a lot of freshmen have been attending offseason workouts. Kessler highlighted Ayla Balazer. As "one of our top freshmen," Kessler explained, "she had an outstanding XC season, made varsity, [and] was our number four runner at states." 
Lyall noted that the SEC conference, which Skyline is a part of, is very competitive. "We're gonna be a better overall as a team this year," Lyall explained, compared to last Spring's results. The boys still ended up coming in at 4th in the state. As Kessler notes of track, "It's a team sport but also an individual sport. We don't really focus on team wins and losses as much." 
One key aspect of Track that people often forget about is the field events. In terms of athletes within this subsection of track, ¨We got some good young talent and some big shoes to fill,¨ says Lyall. Not much else was mentioned during the interview. Kessler provided more details. "We have a crew of 4 returning pole vaulters- Natalie Kessler, Emily Greene, Sophia Nielsen, and Bryn Christensen- that we expect big improvements from with a year of experience under their belts.  Kessler, Greene, and Christensen will also compete in high jump."