The Time the Arts Seemingly Disappeared and Reappeared
On March 13th, 2020, the world came to a close. Covid-19 rang like a tornado siren, causing all schools, most businesses, and other activities to go online or cancel entirely.  Fast forward to the fall of 2020, the beginning of a new school year: students entirely online, trapped in their houses, trying to stay awake as their teacher figures out Schoology. But where did the arts go?  How to even fathom the idea of students singing and playing instruments in a space with Covid present?  Here at Skyline, teachers learned to adapt and eventually learn from the experience.
'Till I Hear You Sing Once More
"I will never take a rehearsal for granted again" states Lyn CieChanski,  Skyline's choir director and teacher.  When school went online, CieChanski didn't know what to do at first.  CieChanksi took the challenge in stride and began finding options.  In early October, Ann Arbor Public Schools (AAPS) purchased a program called UpBeat, an audio/video syncing program that allowed students to perform at the same time (being far from each other.) Upbeat became a vital resource to all of the music programs at Skyline during the virtual year..  Although UpBeat was not a true replacement for live singing, the choir program kept going, producing concert videos, practice logs, and even sight-reading challenges through UpBeat.  
"I learned what was most important. Some things that are less important are not as prominent in this teaching style," says CieChanski.  "I needed to make sure I was giving equal attention to the students on zoom and in the building."
With the return of students in April of 2020, a new challenge arose: balancing the attention of the students online to the students in the classroom.  Although having students back in the room was exciting and a form of normal, a lot of challenges remained.  How would students maintain singing and aural skills online? What will performing look like?  CieChanski came up with a complete plan of attack.  With the introduction of UpBeat into the system, performing virtually was now possible, along with using resources like Sight-Reading Factory and Noteflight to keep sight reading skills up. 
The strain of online learning also extended to Skyline's competitive a cappella group, Skyline Blues.  With the group looking forward to the competition season through the International Championship of High School A Cappella, (ICHSA), there were many questions going into the online school year.  In the end, the entire year of competition was online.  Due to district guidelines, Skyline Blues was unable to ever practice in person unless for specific filming.  Yet, they placed 1st at regional quarterfinals and were awarded outstanding soloist prizes for Gabriel Hill and Rajada Noblin.  This year, Skyline Blues released their very first full album titled "Light at The End" on October 15th, 2021.
When asked if she was excited to be back in the building,  CieChanski responded, "Heck yes!" With the return of students to Skyline, the Skyline choir program is back up and running. Students are required to wear special singing masks when performing, Skyline Blues is back to rehearsing in-person, and restructured versions of concerts are being organized.  However, there is no information at this time of what indoor concerts will look like for the 2021-2022 school year.
Full Orchestral Rehearsals to Chamber Groups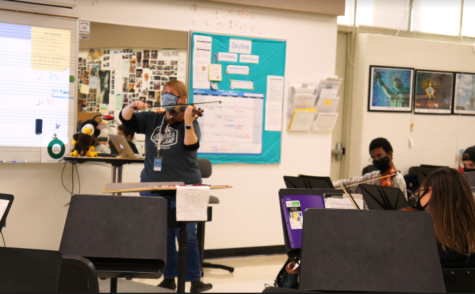 Although many of the instruments in orchestra do not require any form of wind or air, there were still many challenges in the online school year for orchestra.  Before Covid-19, students would share music stands and music. Now students have their own stands and seats have been placed farther apart to keep social distance whenever possible. 
"We turned our focus to the individual and how to make the best musician," said Andrea Murray, the orchestra teacher at Skyline and Tri-M Honor Society Sponsor.  "We focused more on chamber groups and skill-building and less on ensemble skills."
For orchestra, UpBeat made playing in smaller chamber groups a more realistic option than playing "together" over zoom.  In addition, the use of Sight Reading Factory, an online program to practice sight reading skills,  aided in having more in-depth sight-reading practice and making students better musicians overall. Practice tracks, which play the music and background audio to the musician's earbuds,  also became a vital source for practicing and staying on time with every member in the orchestra.  In the past, practice tracks were rarely used but Murray discovered how helpful they were especially during the online learning period.  Once April of 2021 hit, a new challenge arose.  Once a portion of students were back in the building, there were a lot of challenges. Similar to choir, the biggest challenge was how performing together would work.  For orchestra, UpBeat was heavily used to aid in concerts and playing together during Covid.
"I learned that it doesn't need to be a constant push to every concert," says Murray. "We do have time to focus on technique and building our skills."
 With the return to in-person learning in the Fall of 2021, students were looking forward to a more normal year.  The plan for this school year is to continue the program in the best way possible. "We are looking forward to making music together again," said Murray.  With students continuing to work in smaller chamber groups and not sharing music stands like the hybrid year, the orchestra will be raring to go for the first concert and/or event when the time arises. Winter plans for this year included a performance at Music and a Meal and a benefit concert and a winter concert in January.
76 Trombones, 110 Cornets, all Not in the Room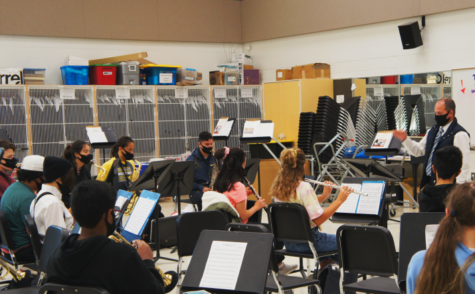 Along with CieChanski and Murray, Skyline the band director Jason Smith has had to deal with the struggles of organizing 3 different bands in a virtual space. When Skyline decided to go virtual in the fall, Smith wanted to emphasize the band.  Which is why the core music classes were mostly left untouched and the extra classes: like guitar, piano, and music theory were cut.  Lots changed during the virtual year and Smith understood this.
"The whole year, rather than being in an ensemble and listening to people around you and playing with other people, etc, you are sitting in your room alone playing your instrument," Smith says. "It became kind of like a team sport, like how many people would want to play football by just working out in their bedroom alone?"
Without being able to perform as a group, it is hard to practice with the knowledge that they wouldn't perform their music on stage. Smith said that "the next few years, after a year of being online, is really just getting back to where the program was a year ago."  The focus for this year is to work on his students' skills and fundamentals so that they can go further with the program. Smith is working on making sure the band practices every day while they are in school and pushing students to practice in their free time. Getting used to practicing every day will make the band thrive in the later year.
Asked if there was there anything he'd learned from online learning, Smith said,  "I don't want to go back to it." 
This Fall,  Smith is thrilled to return to the band room and conduct for his students. The best way to experience how a band maneuvers is to be present for the practices and performances. Hearing what sections or measures need to be worked on is something that is hard online. Smith says he will cherish his time with practices, performances such as Music and a Meal, and future performances like the Winter Concert, and teaching an amazing group of students.