Friday night football games are a staple of American high schools. Students at Skyline do a variety of different activities between when the bell rings at 2:51 and kickoff. Thanks to A2 Nest, the student section's social media account, themes are chosen for each event in advance, providing inspiration for the student body to prepare.
"I have practice [for volleyball] every day before the games," says Nicole Yastchenko ('27). "I usually go after practice and get ready with all my friends… we get dressed for the theme and do our hair and stuff. I usually go [to a] friend's house, right after practice, and then we just go there together."
The Varsity Pom Team and Marching Band always bring out the pep from the student section during the Eagle's journey of bringing the pigskin into the End Zone. Even with both Pom and Marching Band having fairly strict uniforms, both still have sub-traditions to get ready for Friday night.
"Right after school [the pom team goes] down to the commons and we paint the banner [for kick-off] so it has time to dry," says Halftime and Sideline Pom Team member Janna Preston ('24). "After that we go to the locker room to get ready…. We put a bunch of glitter all over ourselves and it's super fun. We usually eat dinner together at a teammate's house and then we come back to school, prep in the locker room, get our energy up, practice our dance and head out to the field."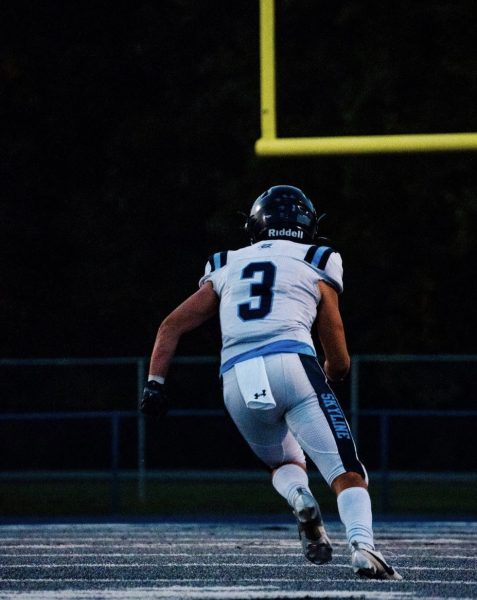 Marching band "stay(s) at school [until kickoff] and sometimes we walk down to Speedway and get snacks and then we walk back," says Evelyn Kidle ('24), who's been a part of Skyline Marching Band since her freshman year. "We have a tailgate, and we kinda just hang out and get ready for the game [to] get the energy pumping."
While preparing for the game, football players bond over long-held superstitions. Coleman Grengs ('24), varsity wide receiver and safety, shared in detail more specifically what the superstitions include. "I know some players like to pray together. Some players have superstitions like wearing certain gear or writing a message on their cleats or arm band. Typically [what I do] varies season to season. Right now I play better when I have wrist tape on and when I have a towel."
Friday night atmosphere is unmatched: no matter the results of the sporting event, games leave the student body with hoarse voices and ringing ears, along with memories of high school to last a lifetime.