Skyline Golf Senior: Andrew Slade
This season for Skyline's boys golf team has been largely successful, and a lot of that is thanks to senior Andrew Slade ('23). He has helped lead them to the Washtenaw County Title, and taken upon a leadership role for the Eagles with his determination and devotion to the game. When asked about who should be the focus of this article, coach Taylor Whitt pointed straight towards Slade.
Slade's roots in the game run deep, and golf has been somewhat of a haven for him since an early age. "I was a young kid, so probably 4 or 5," said Slade, "My parents belonged to a country club, so they started enrolling me in junior golf programs there, and I just started playing it a ton."  The drive Slade has had since that young age to continue to play and work hard during his golf career is admirable.
This year has not only consisted of success with the Skyline team, but also personally for Slade. "I've played pretty well in a couple of tournaments," said Slade, "[I got] placed into a big tournament, the Michigan Junior Amateur, so that was kind of a high point from this year."  He continues to compete often on every level, no matter if he's in a team or individual setting.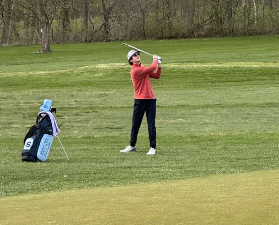 Slade has not only had good stretches, but also skids during his time playing golf. He uses the more challenging periods to his advantage to reflect on the mental side of the sport. "I started to realize the mental side of golf is really important, and [reflecting] kinda gets me mentally stronger," said Slade. "I learned a lot, and now I make sure I'm strong mentally, making sure I'm eating on the golf course, sleeping right, getting in the gym. Things along those lines can help balance out potential nerves or other rough times that could come up during a round."
Slade has found that in golf, community is an important value. "I like the companionship that goes along with it, like you don't meet a lot of bad people," said Slade. "You form great bonds, you meet awesome people, and you get great connections that can lead to lifelong friendships." He has found that in a sport, especially one where you communicate with so many people, it's important to be able to connect.
Slade looks forward to continuing his career at Dennison University in Ohio in the Fall of 2023, and looks to make new connections and mistakes, to learn and grow as a person and a golfer.