Fighting War With Music
"I don't think Russia has a right to exist anymore," said Marua Alyokhina, the lead singer of the feminist band Pussy Riot after she escaped Moscow this Spring. "Even before, there were questions about how it is united…and where it is going. But now I don't think that is a question anymore." (New York Times, 05/11/22,)
With the war in Ukraine now entering its fourth month, its impact has been felt throughout the world. Europe hasn't seen this level of conflict since WWII. Not even the Yugoslav Wars or the First/Second Chechen Wars compare to the scale of the Ukrainian invasion. 
In response to mounting sanctions, the Kremlin has taken measures to silence dissent. Russian nationals are forced to refer to the war as a "special military operation," or they can face up to 15 years in prison. Social media sites like Instagram, Facebook, and Twitter are all banned in Russia. Even Russia's version of Facebook, VK (VKontakte), is facing increased censorship.
Tens of thousands of Russians have taken to the streets to protest against the Ukrainian invasion. An article published by The Economist in March estimated that more than 15,000 Russians are currently imprisoned for participating in anti-war protests, most noticeably in the population centers of Moscow, St. Petersburg, Yekaterinburg, and Novosibirsk. 
Despite all these dangers, many Russian musicians have used their platforms to speak out against the war. Most notable of these is the Russian electronic duo IC3PEAK,  Nastya Kresilina and Nick Kostylev. IC3PEAK has a long-standing history of protesting the Kremlin and the decisions the Duma (Congress) makes. Most prominently, in 2018, they released a song titled "Смерти больше нет (No More Death)" in response to the increased force of the Russian police. This resulted in them being followed by Russian police for the duration of their 2018 tour and even having to perform in secret locations. 
On March 5th, IC3PEAK took to their social media to declare their opposition to the war: "Right now there are hundreds of people dying in Ukraine. It breaks our hearts…The Russian government with Putin in charge is waging a war that shakes the future of both nations…Censorship and police surveillance in Russia is reaching new heights. It becomes harder to get accurate information…We performed and took part in protests, where thousands of Russians risked jail time just to disagree with the regime they never voted for. Peaceful protests still happen every day. We will continue to resist."
The Russian rapper FACE posted to his Instagram stating that he was going to go on a charity tour in Europe to raise money to help Ukraine.  "The funds will be used to treat the victims, help medical institutions, field doctors, volunteer camps, purchase the necessary medicines and rehabilitation equipment."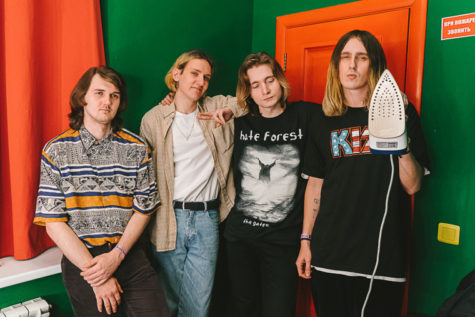 Although IC3PEAK and FACE have since left Russia to escape imprisonment by the Kremlin, there are still artists inside Russia who are using their platforms to speak out. One band, ssshhhiiittt!, took to their Instagram on April 4th to state their position:
"Support each other as much as you can, this is very important right now. Love will win if each of us is responsible for it. Money for canceled concerts is held by the organizers in Ukraine and will be returned to you as soon as possible. Strength and health to all our listeners and friends." 
Even though they did not directly state that they were in opposition to the war, their stance is clear.  Russian musicians are still finding ways to speak their minds and hopefully put an end to this genocide. They are taking a huge risk to speak out against this war.
If you would like to support Russian artists I recommend streaming the music of these Ukrainian, Russian, and Belarusian artists who have taken a stance against the war. It's important to support the artist community because they are the ones who are using their platforms to speak out.