BTS: More Than Just a Boyband
The White House invited the K-pop group, BTS (Bangtan Sonyeondan, or the Bangtan Boys) to speak at the White House on May 31st. At the end of Asian American and Pacific Islander Heritage Month, they were given this opportunity to represent all the Asians out there and the struggles Asians have gone through.  
"It is a great honor to be invited to the White House today to discuss the important issues of anti-Asian hate crimes, Asian inclusion and diversity," said Namjoon, the leader of BTS. 
"We are devastated by the recent surges of hate crimes including Asian-Americans," said Jimin, another member of the band.
In the speech, Jungkook mentioned they were surprised how K-pop had reached so many people and they want to do the best they can to help. Prior to the press conference, they had met with president Biden. Namjoon thanked Biden for signing the COVID-19 Hate Crimes Act into law, and of course thanked the Army as he always does, for supporting them and for the help of bringing more attention to this topic. 
This summer BTS fans (or "Army")  are expecting a comeback on June 10th with a new album. Being in the Army means you are a part of BTS' fandom. The Army has grown immensely since quarantine happened, although they were already fairly big before. BTS has 18 albums –soon to be 19– that their fans adore. The Army is looking forward to this upcoming album because they have created many hits like "Butter!"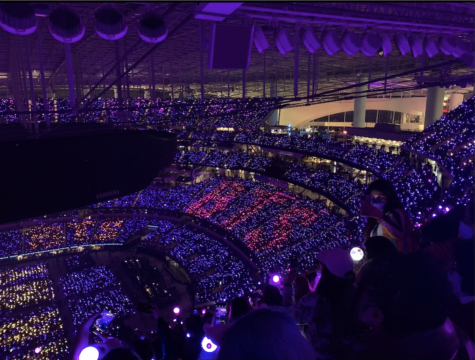 BTS is a musical group from Korea. They make songs primarily in Korean with some English words here and there, with the exception of their 3 latest English songs, "Dynamite", "Butter", and "Permission to Dance". They've also broken many records. For example, Destiny's Child's record of the most awards at the Billboards Music Award this year. They've gone on to win further awards at other award shows in Korea like Melon Music Awards. In the past 8 years, they have won a total of 392 awards, and more to come. 
BTS has made amazing songs with the artists they have collaborated with, such as "Boy with Luv"  featuring Halsey, "Butter" (a remix) featuring Megan Thee Stallion,  "My Universe" by Coldplay featuring BTS, and "Mic Drop" featuring Steve Aoki. BTS' music videos and interviews on YouTube have surpassed hundreds of millions of views, in addition to fans also streaming their music on Spotify, Soundcloud, iTunes, and Apple Music. They have a total of 7 members who are all in their 20's: Namjoon, Jin, Suga, J-Hope, Jimin, Taehyung, and Jungkook.
BTS made their debut on June 13th, 2013. No one knew them back then; now they are a worldwide sensation. They've toured multiple times, across Korea, the United States, and even 5 world tours. Music fans who aren't familiar with K-pop may be quick to judge the songs, especially in a different language based on stereotypes that it's too girly. People who like to explore and are willing to try any music or any language might like listening to BTS more. Many of their songs have a calm or upbeat theme, so it really depends on what you enjoy. 
Personally, I didn't think I would enjoy their music until I gave it a try and now I love it. Sometimes, you have to let a band grow on you. BTS fans, including me, love them because they feel being in the "Army" is a special place and it makes them feel they belong somewhere and are loved. BTS even has a campaign called the 'Love Yourself Campaign.' During the beginning of Covid, many people in the Army struggled because they felt like they were trapped due to the isolation of quarantine. BTS once said that you are not alone and there is someone in the world that you can relate to. They are great role models and care for their fans. Many BTS fans talk online about their experiences and what they love about them.
BTS has been part of so many people's lives. With all the positivity they have spread, and them being an overall positive community to be part of. It's no wonder that they're the hottest band around, why millions are looking forward to their upcoming summer album, and why they have stuck with the band through it all.