Screws, Nuts, & Bolts: Is It Worth It To Read Cinder?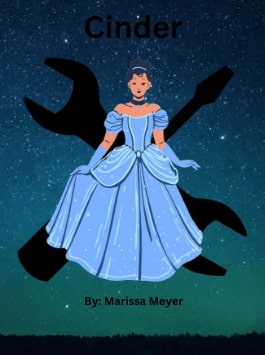 Cinder, by Marissa Meyer, is about a cyborg girl named Cinder whose life becomes intertwined with the handsome Prince Kai's where she suddenly finds herself at the center of an intergalactic struggle and a forbidden attraction. Caught between duty and freedom, loyalty and betrayal, she must uncover secrets about her past in order to protect her world's future.
Cinder is loosely based on the retelling story of Cinderella. 126 years after World War IV, Cinder lives in the futuristic city of New Beijing. Cyborgs are a marginalized social class in the world, so Cinder hides her mechanical body parts whenever she can. Her stepmother, Adri, treats her like she's useless even though she brings in the sole income.
This book is totally worth reading because of the setting, which takes place in the future, where trucks and cars are in museums and hovers are the new mode of transportation.
It's a story of a hardy and headstrong girl who is fighting for her freedom, not trying to tie herself down. You'll just love the nod to feminism in this story as Cinder is the most successful female mechanic in the city, amongst all the other girls who seem to just be vying for the prince's attention. It is such a good book! There is so much action and adventure. And I just couldn't put it down.
If you're looking for a fun, action-packed and wholly unique sci-fi adventure which stands out from the crowd, Cinder is the book for you.