With Final Exams Fast Approaching, What Will They Look Like?
As the end of the trimester approaches, so do final exams. With it being the first year back to school in-person after almost two years online, many students old and new are left wondering what the format of finals will look like. Additionally the push back of the date of exams due to Covid-19 has created more confusion.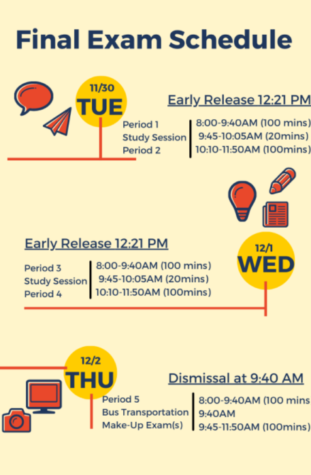 Skyline seems to be moving away from traditional testing. According to Skyline's lead teachers of each subject area, exams will focus on project based assessments with a portfolio reflecting what the students have learned in class.
"In the past there were mostly multiple choice questions with argument tasks," said Casey Warner, lead Science, Biology, and A.P. Environmental science teacher at Skyline. "This year is a combination where students are designing a lab or a portfolio reflecting on what they did and answering different questions."
Jeff Oleksinski, lead Math, Analytical thinking, Precalculus, and AB Calculus teacher at Skyline adds, "The final exam is made up of two pieces: the portfolio, the questions that the students got throughout the term, and the final exam day questions. Portfolios are questions you can make revisions on but final exam day questions you take only once."
Jeff Austin, lead English teacher and Writing Center director at Skyline continues, "There's a lot of teacher leeway in English. We emphasize moving away from traditional to more reflective [tasks], more representative of a student's entire body of work over trimesters, like portfolios, and one on one conferences, things that more accurately represent a students' learning."
Chad Bickel, lead Social Studies, U.S. and World History & Geography teacher at Skyline says, "This year's common assessment will be where we ask them to define and give the historical significance of key concepts we've studied throughout the trimest. We are not having multiple choice questions this year. As the world history group, we decided we didn't want to do [only] multiple choice questions anymore."
Many teachers seem to be happy with the change as it is less stressful for students and more summative of their learning.
During online and hybrid instruction, exams were "much more project-based and reflecting on what [students] did. We're looking at a different combination of different years," said Warner. "Every year our exams get better; every year we work on what we did and we learn as teachers and students. I really like the direction the final exams are taking, as a whole department."
Oleksinski said, "In previous years, students were taking 30-50 question tests. During online school we did not have exam questions in math. The final was a collection of portfolio questions throughout the term. I'm happy about the change. When students have high stakes tests at the end of the term it can be very stressful. This year there will be less stress, and the effect the final has on your grade is lower. It has taken emphasis off of one individual test."
Austin adds, "This is a direction that English has been going in for a while at Skyline and throughout the district. Students won't notice big differences (for English), but might see more teachers doing conferencing. I feel good about the direction English is moving in final exams. Students often have a lot of stress and anxiety around this time. Students often don't perform their best in high stakes times. I'm happy as a department that we're moving in that direction. Let's talk about you as a reader and a writer. I think they are all more helpful than 'Here's your test. Do it.' "
Bickel said in History, "In the pandemic year, online, we did a portfolio where students had to pick or explain what they learned throughout the year. I think that getting away from multiple choice questions for common assessments isn't a bad idea as long as students are able to review. It does require more learning and understanding than multiple choice questions. It's the first year doing this in world history so we'll see how this goes."
Teachers and administrators alike are doing their best to support students during this stressful time.
"I know it's a stressful time for everybody and there's an added stress being the first trimester back. As we move forward into this time I want to remind students to focus on a balance of mental health," said Casey Elmore, Small Learning Community Principal for Integrity and Diversity at Skyline. "And for students to remember it's okay and it's not the end of the world."