From eating specific dishes to spending time with friends and family, everyone has a different way of celebrating Thanksgiving. Friendsgiving is gaining popularity as one way that young people are celebrating.  
To start the festivities we have a crisp, bubbly drink with a cranberry and ginger flavor. Then, crispy buttery sage smashed potatoes and the fluffiest rolls. Finally, mini apple pies are perfect for dessert. 
From a Thanksgiving twist on a trending recipe to decades-old classic recipes, these recipes are perfect for your Friendsgiving celebration this year!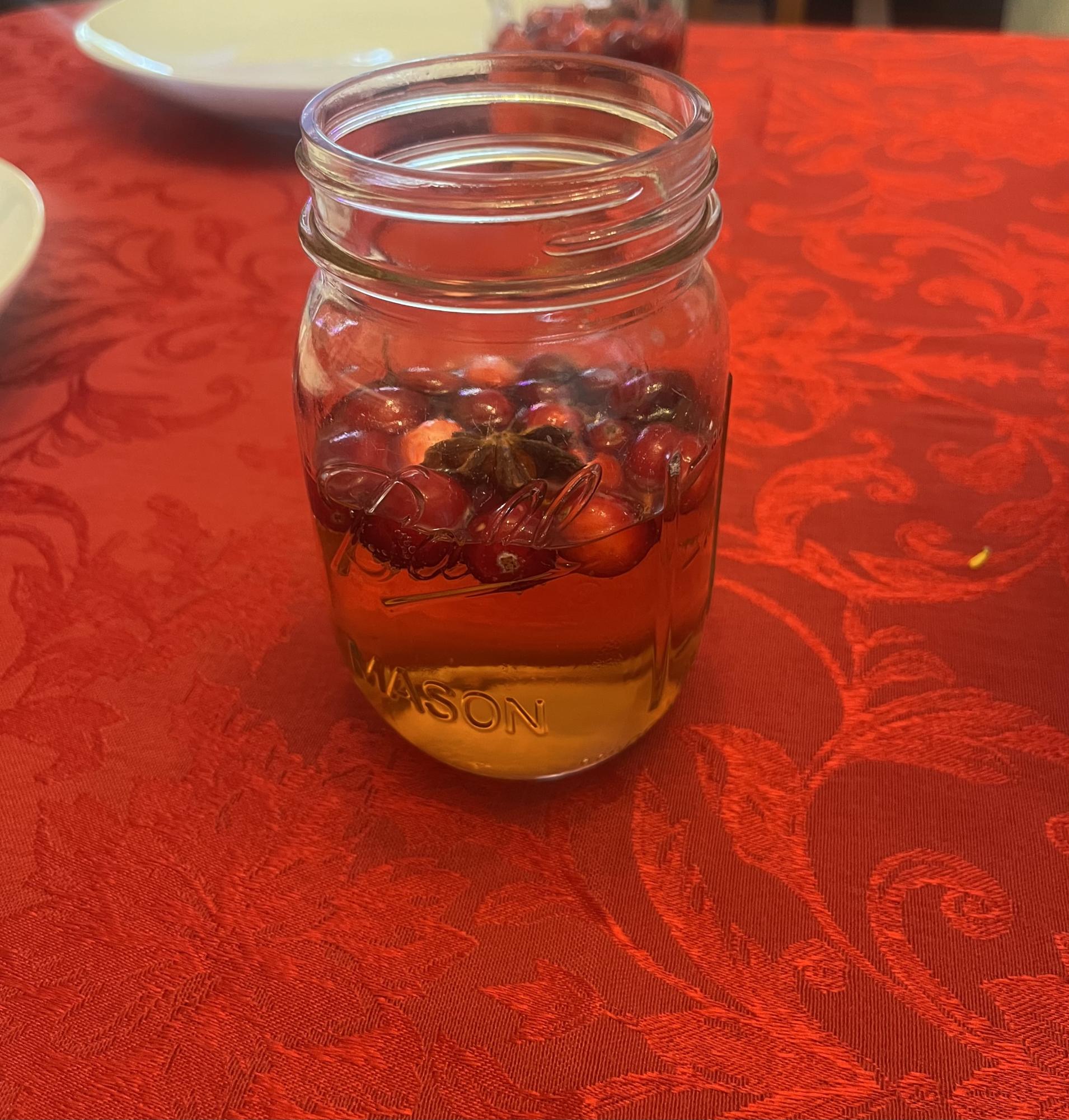 Sparkling Cranberry Ginger Punch
Ingredients:
1½ cups Fresh cranberries 

½ cup sugar

½ cup water

2 liter of ginger ale 

2 cups frozen cranberries

Star anise
Directions:
Cranberry Simple Syrup:
Put water, fresh cranberries, and sugar in a small saucepan over low heat. Optionally, add star anise.

Simmer for 15 minutes or until cranberries are softened but have not burst.

Strain using a fine mesh strainer and discard solids.

Cool to room temperature before preparing drinks.
Punch:
Mix 1 cup of ginger ale and 2 tablespoons of cranberry simple syrup in each cup.

Serve with a small handful of frozen cranberries and star anise for garnish.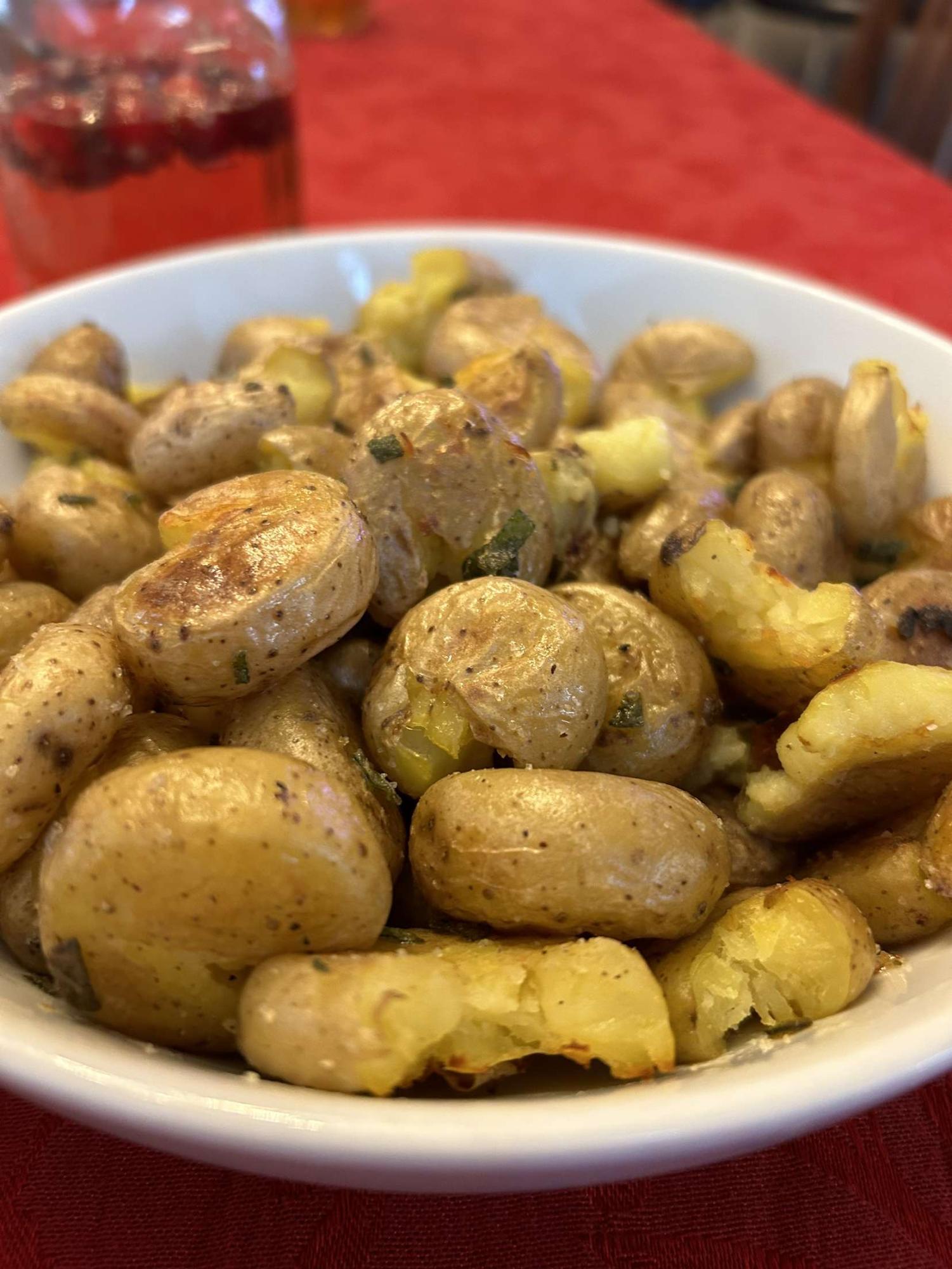 Crispy Sage Smashed Potatoes
Ingredients:
1½  lbs small/medium sized potatoes

2 tbsp melted butter

2 tbsp olive oil

Kosher salt 

Pepper

1 tbsp chiffonaded (roughly chopped into thin strips) fresh sage
Directions:
Bring a large pot of water to a boil and boil potatoes until soft, about 14 minutes.

Drain potatoes and allow to cool for 10 minutes.

Preheat the oven to 425 degrees.

Mix together melted butter, olive oil, fresh sage, salt, and pepper to taste in a small bowl.

In a large bowl coat potatoes with the butter and oil mixture.

On a baking sheet mash potatoes to desired thickness.

Broil for 7 minutes or until golden brown and crispy.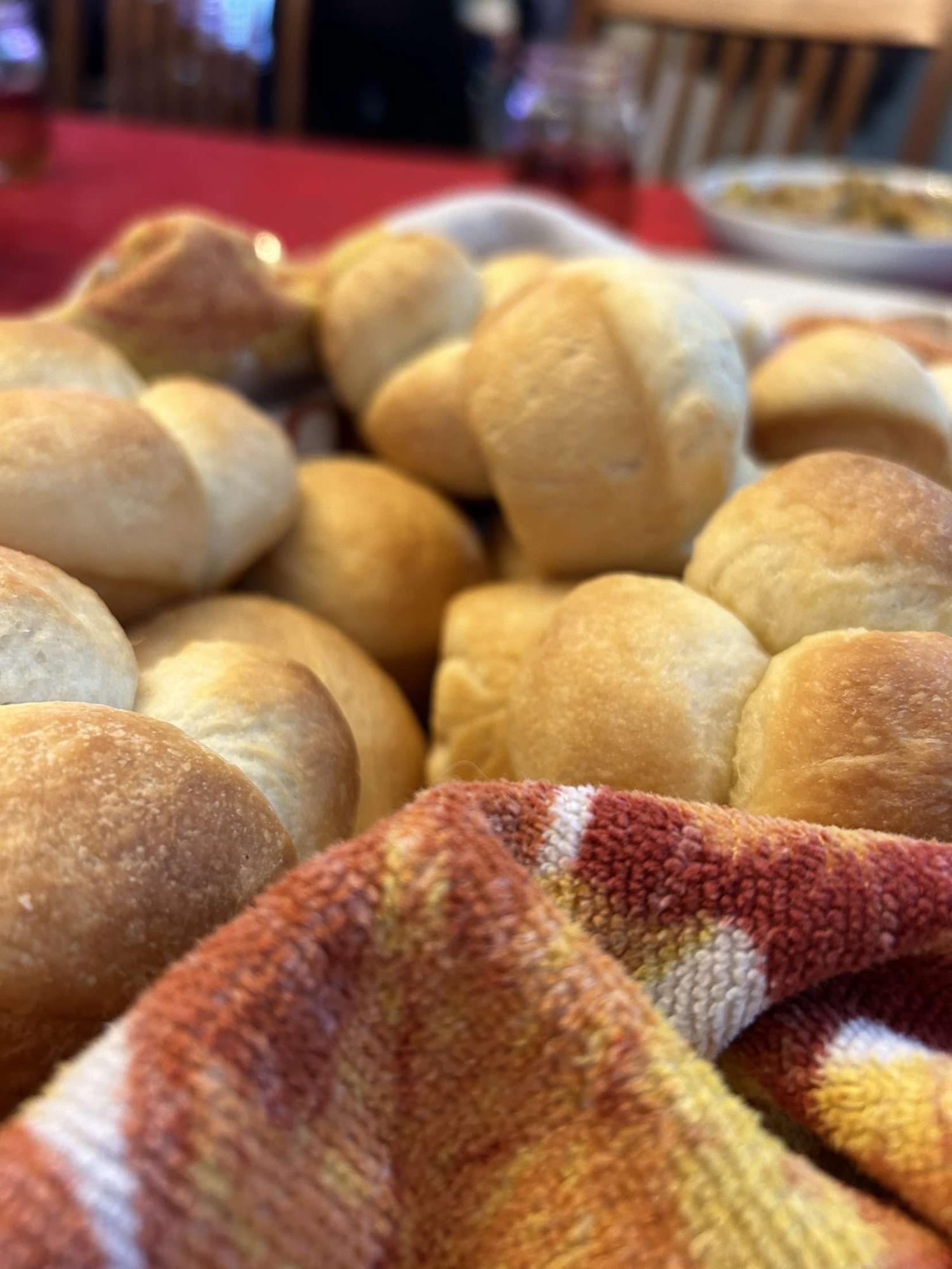 The Fluffiest No-Knead, Pull-Apart Rolls with a Whipped Honey Brown Butter:
Ingredients:
Rolls:
3 – 3 ½ C bread flour

⅓ cup granulated sugar

¼ cup room temp unsalted butter, cubed 

½ tsp kosher salt

1 package instant dry yeast (¼ oz)

½ cup warm water

½ cup warm whole milk

1 tbsp honey

1 large egg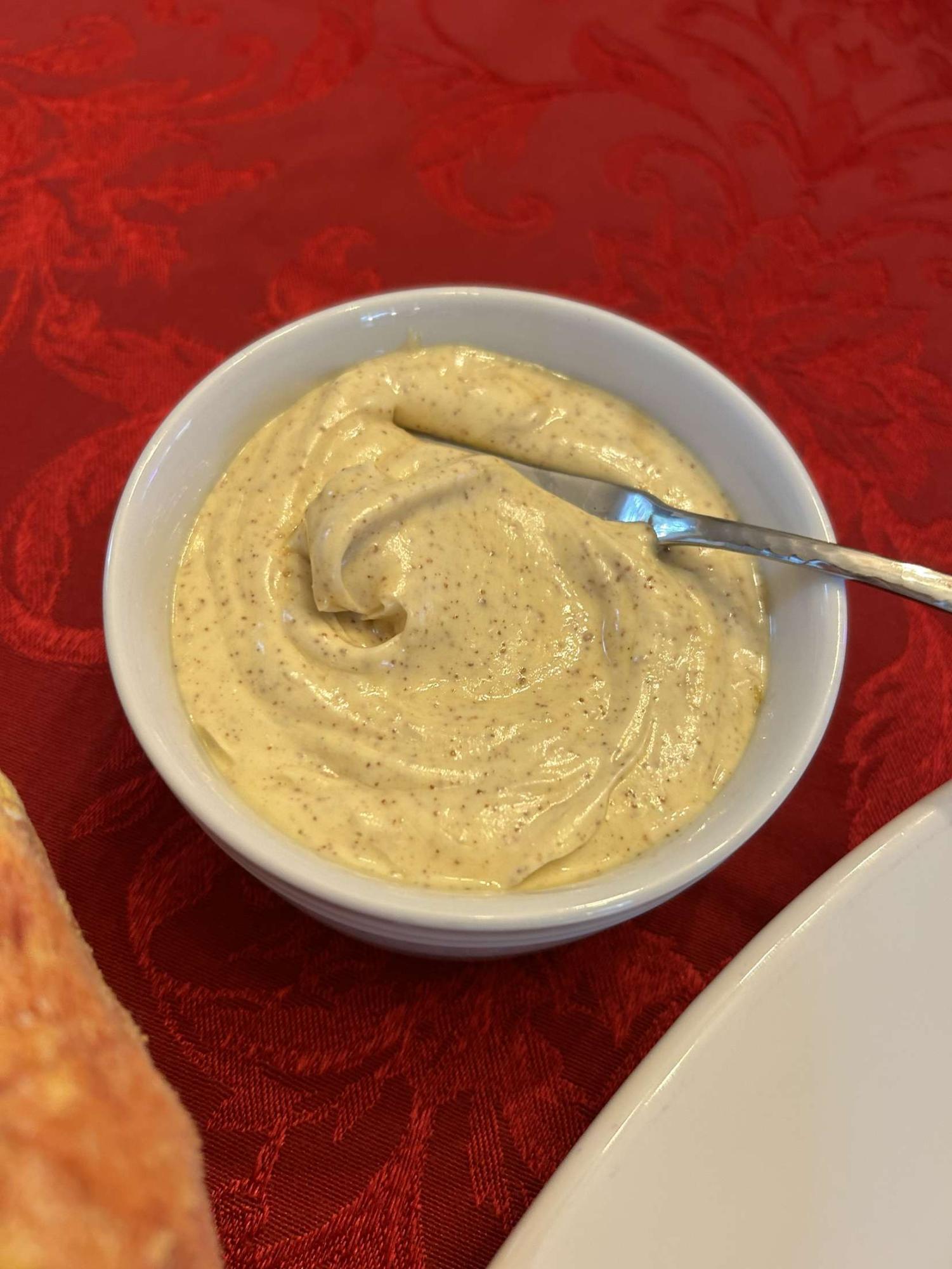 Butter:
1 cup high-quality (like Kerrygold or Vermont Creamery) unsalted butter 

1½ tbsp honey

1 tsp ground cinnamon

Kosher salt 
Directions:
Rolls: 
Place water, milk, sugar, yeast, and honey into a small bowl and whisk gently. Let the mixture sit for five minutes to activate the yeast. Small bubbles should form.

Gently whisk in an egg until combined. 

Transfer the bowl to a stand mixer fitted with a dough hook attachment. Add in 3 cups of flour and salt, mixing on medium speed. 

Once the flour is combined, individually add cubes of butter until thoroughly mixed. 

Continue to mix the dough on medium-low speed, adding in more flour as needed, until the dough pulls away from the sides of the bowl, forming a ball.

Mix the dough for 5 more minutes on medium-high speed. 

Transfer the dough to a greased bowl and cover with a clean kitchen towel. Place the dough in a warm dry area, and allow to rise for 1 – 1½  hours. The dough should double in size.

Once risen, punch the dough gently to deflate it.

Grease a muffin tin generously with butter and place three 1-inch pieces of dough into each cup, rolling each piece into a ball to create a pull-apart roll.  

Once all dough has been portioned, cover and allow to rise for 30 minutes. 

Preheat oven to 400ºF.

Once dough has risen, brush rolls with melted butter and bake for 12-15 minutes or until golden brown.
Butter:
Place the butter in a heavy-bottomed saucepan over medium heat. Stir occasionally until melted.

As the butter reaches a boiling point, it will begin to bubble rapidly and spit. Continue to stir occasionally. The mixture will turn to a deep golden brown and be fragrant when ready.

Remove butter from the heat and cool to room temperature. Once cooled, place in the fridge for 10 minutes. The butter should begin to set.

Remove the butter from the fridge and place into the bowl of an electric stand mixer. Add in honey, cinnamon, and salt. 

Using the whisk attachment, beat the butter on high speed until soft peaks form and the butter has nearly tripled in volume.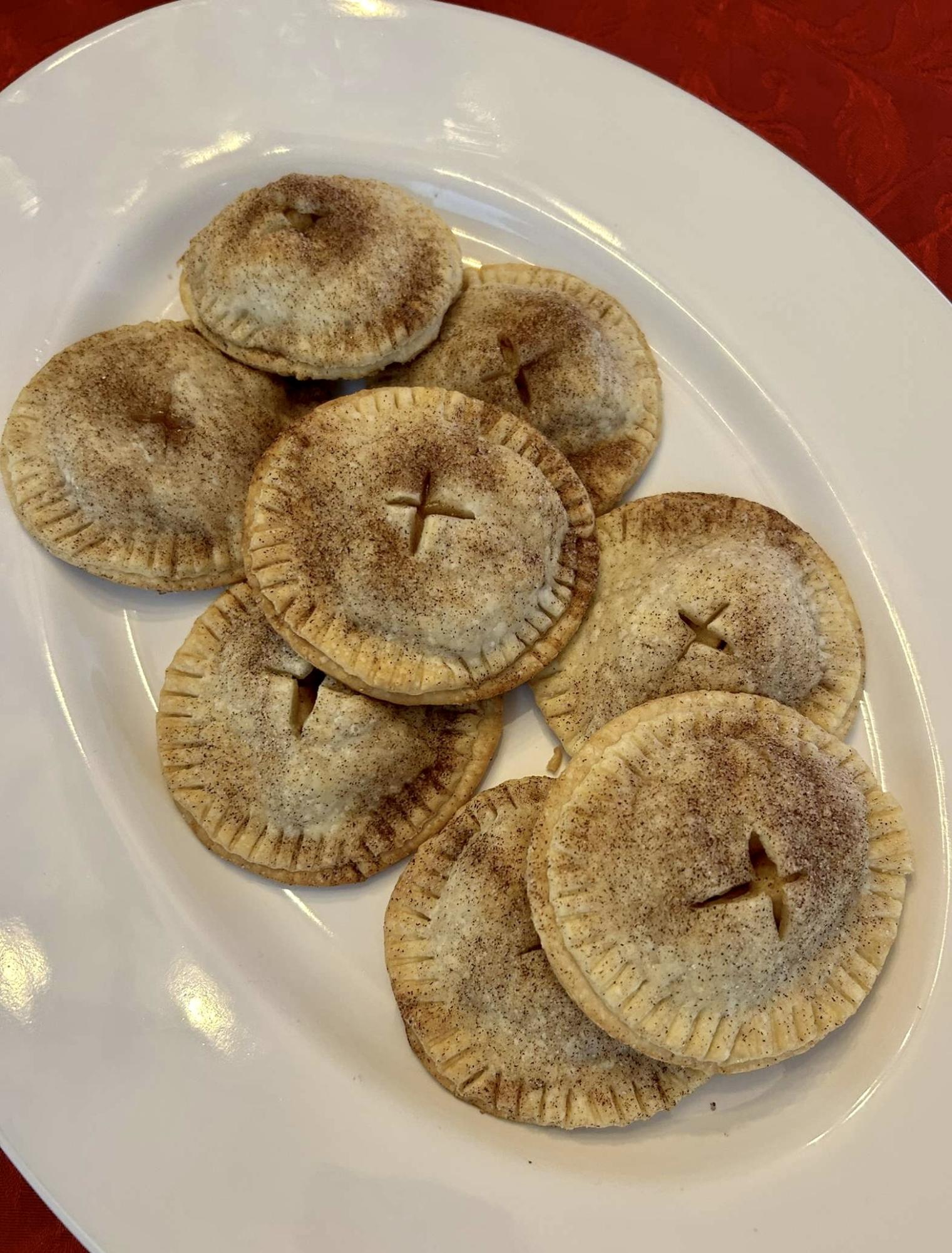 Mini Apple Pies:
Ingredients:
2 sheets pie crust (homemade or store-bought)

2 large Honeycrisp apples

2 tbsp coconut sugar

2 tbsp unsalted melted butter

1½ tsp ground cinnamon

1-2 tbsp cinnamon sugar (equal parts cinnamon and sugar)

½ tsp ground nutmeg

¼ tsp kosher salt
Directions:
Preheat oven to 400ºF.

Peel and core apples. Cut into ¼  inch cubes.

Place cubed apples, sugar, butter, and spices into a bowl. Mix with a spatula.

Cut 3.5-inch rounds out of the pie crusts. 

Place about 1 tbsp apple filling onto each circle of crust. Top with another circle of crust and use a fork to crimp the edges to seal the pies. 

Using a sharp knife, cut a cross on top of each pie.

Brush tops with melted butter and sprinkle with cinnamon sugar.

Place on a baking sheet and bake in the oven for 15-17 minutes until golden brown.

Allow the pies to cool before serving.