GSRA Fights For Gender Neutral Bathrooms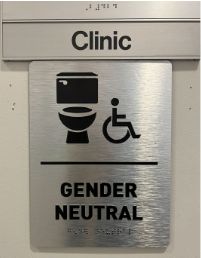 "Bathrooms are healthcare and we will fight for health care," chanted GSRA secretary Nhoa Kim ('25) during September 27th's weekly GSRA meeting.
Skyline's Gender, Sexuality, and Romantically Alliance (GSRA) has written a formal proposal in support of the expansion of gender-neutral bathrooms. GSRA president Liam McGlohon ('23) submitted the proposal in March of 2021 to Skyline Principal Cory McElmeel, Assistant Superintendent Jazz Parks, and Executive Director of Physical Properties Bernard Rice.
"We propose converting the 3rd-floor C-hallway Women's Restroom into an All-Gender Bathroom," writes McGlohen ('23). "Converting the restrooms wouldn't require any construction or cost to Skyline, only a sign change, which GSRA is willing to pay for." McGlohen also suggests "adding more hate speech report fliers, and increasing the frequency of CA restroom checks" for the safety of cisgender and transgender students.
As of November 2022, the GSRA is still waiting on approval of this project.  McElmeel commented, "I appreciate the hard work and forward thinking of our Skyline GSRA students to create solutions that honor the needs of all of our kids."
Executive Director of Physical Properties Rice has since replied to the proposal saying that their engineers are looking into it. The administration has taken the GSRA's proposal into consideration and is working on the logistics of the project. It is unknown when construction is likely to begin.
"AAPS will engage with Fishbeck Engineering Group to develop a gender-neutral feasibility study." Rice commented. "Included in this study will be a short- and long-term feasibility scope of work. When Fishbeck completes their analysis, we can move forward."
Gender-neutral bathrooms, according to the GSRA, can benefit Skyline students by providing a safe facility for transgender and gender non-conforming people. This also can benefit students who require the assistance of a caregiver of a different gender. Current gender-neutral bathrooms can be found in the main office, the gym, and the nurse's clinic. 
Kristin Mahler, Skyline School Nurse said, "I know there are a variety of reasons it benefits students. I am happy to have it!"
As thankful as students are to have the current gender-neutral restrooms, the location of the gym and main office bathrooms are inconvenient to those who aren't on those floors. Additionally, there are many instances where the nurse's office and other bathroom locations are locked or otherwise inaccessible. All current gender neutral bathrooms also allow a limited capacity of students, which may potentially result in backups and longer waiting times. 
"While there are theoretically gender-neutral bathrooms at Skyline, in practice, they are inaccessible for the majority of students," says McGlohon. "They are only single-stalled and they are difficult to access for disabled folk. As of now all gender-neutral bathrooms at Skyline are reliant upon the willingness of staff, which, while they have been supportive thus far, is not an absolute guaranteed resource."
Reassuringly, as stated in the proposal, the implementation of gender neutral restrooms has been successful in other high schools.
According to the proposal, "Michigan has seen success with all-gender bathrooms at other schools such as Lakeshore High School in Stevensville, MI, and Concord Academy in Petoskey, MI. Public Schools in Madison have also pledged to build all-gender bathrooms in every school as well. There are also larger examples like Canada, which has required accessible all-gender bathrooms in all-state funded buildings since 2010."
The GSRA believes this to be the responsibility of the school, if not the district. In accordance with the rules and regulations released by the Education Office for Civil Rights (OCR). The OCR enforces Federal civil rights laws that prohibit discrimination within programs that run on federal financial assistance.
According to the OCR, according to the proposal, "A school's Title IX obligation to ensure nondiscrimination on the basis of sex requires schools to provide transgender students equal access to educational programs and activities even in circumstances in which other students, parents, or community members raise objections or concerns."
Editors' note:  Liam McGlohon ('23) is also a reporter for The Skyline Post but did not contribute to the reporting or writing of this article.