Finding Out The Origins of the Skyline Figure Skating Team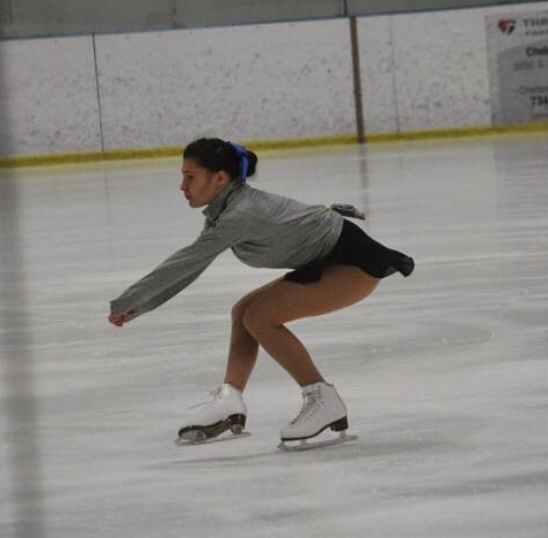 The Skyline figure skating team is into its 5th year up and running. Despite this, recognition and attention the team has been shown is minimal. As one of the most extensive and strenuous sports Skyline has to offer, they should be recognized for their accomplishments and how it was established.
At the beginning of the 2017-18 school year, the Skyline Figure Skating Team was born. Gabriella Renteria Bishop, SHS Figure Skating Team alumnus, established the team with her friend and was there from the inaugural year to the end of her education at Skyline. "My friend and I loved figure skating," she says, "so we wanted to make the team." They would practice before and after school and compete. The team was coached by skater Erica Miller. Miller started coaching the team as a graduate student and later was given the opportunity to skate for Disney. "We started off as a varsity team and won competitions," Bishop says, "we had some of the best figure skaters in Ann Arbor on our team." 
However, the girls weren't always very enthusiastic about being a part of the school's club. "People didn't take it seriously enough," Bishop says, "figure skating is a tough sport, something we do starting at very young ages…it took up a lot of our lives so in high school we start to take it less seriously." 
It was difficult for a lot of the skaters to maintain their education after adding a club into their schedule along with all of the other practices they had for private teams. Because of this, a lot of girls quit or lost the spark they had when they started. 
Although Bishop loved the sport, it slowly became a burden for her and the lack of interest from her teammates eventually made her lose motivation. "Figure skating was that tragic love story for me," she says, "some days I loved it and some days I despised it more than anything." She believes it pushed her in a variety of ways and provided her with a lot of strength both physically and mentally.  Skating left her with many permanent injuries along with a sincere yearning to have the experience all over again. "Passion is something that needs to be a drive for everyone and sports can do that for people always and forever."