Has Sony Animations Revived Superhero Movies with the Spiderverse Trilogy? The Skyline Post Reacts to Across the Spiderverse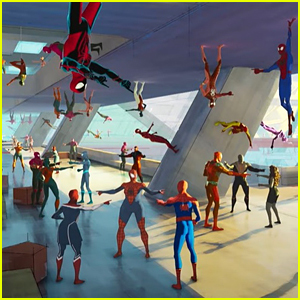 Spiderman: Across the Spiderverse  follows Miles Morales a year and three months after his debut as Spiderman in Spiderman: Into the Spiderverse (2018). Across the Spider Verse released June 2nd, 2023. With a major success in the box office and raving reviews, here is what Skyline Post staff thought of Across the Spiderverse:
"Across the Spidervse was a moment.  It was a great iteration of a classic story. It follows the story from the first movie and connects paths of characters we met and fell in love with. It's a great way of looking at things and taking a concept like a multiverse to the next level. Full of iconic moments and references to the multiple Spider Man iterations, it's a must-watch movie that anyone with a little spider culture would love and enjoy at the fullest." Diego Hurtado-Cardenas (26')
"Across the Spiderverse takes the bar that Into the Spiderverse set and sends it sky high. With a cast of characters new and old, we are spun through a downright magical adventure, through watercolor worlds and pastel dimensions, with a story so large it brings even more enjoyment to the first installment of the series. The opening sequence was so cool, a mirror of emotion and music. Hobie's animation on its own is a force to be reckoned with, Pavitr's suit is amazing and so pretty and the colors of his universe I love it so much." Avni Gupta ('24), Arts and Entertainment Editor
"Watching it felt like spending two hours in an interactive museum – every spiderverse was depicted in the style of a different artist.  Really gorgeous.  Also, as a parent, I appreciated that Miles' parents seemed like real people with nuanced feelings and concerns, instead of just your stereotypical authority figures/foils for the main character to push back on.  Miles Morales' and his parents seemed like real people with a complex, loving connection."  Annie Blais, Journalism Teacher
"The entire movie, I felt immersed in the worlds of the Spiderverse while also feeling a deep connection to each character. I love how all of the characters have many different dimensions and how you could empathize with all of them. I was in awe of the entire movie and didn't want it to end. The cliffhanger is excruciating and I cannot wait for the next movie." Natalia Murrell ('25)
"An absolutely phenomenal movie. Definitely a step up from the last one in both animation and story. From the voice acting to the world building to the comic book references, this was probably the best movie I've seen all year. I am really glad they took this opportunity to further explore Gwen's backstory and I thought Hailee Steinfeld did an amazing job with her character. Overall an amazing movie.  Can't wait for part 2!" Tess Campbell ('26)
"My expectations for Across the Spiderverse were extremely high and they were still blown out of the water. The animation was a big part of the first movie and they just continue to grow on that. The layering of art styles in this movie was one of my favorite parts. Character-wise. I appreciate the extensive cast of characters and the diversity of spider people. With that being said, my favorite spider person and I'm assuming many other people's favorites are yet to be seen, allowing the story to appeal to even more people next time. This cliffhanger will be killing me until May!" Ember DuPont ('24)
Spiderman: Across the Spiderverse is now playing in theaters. Into the Spiderverse is available to watch on Hulu.  The next installment is expected release in 2024.