Streaming Service Graveyard: 4 Most Common Causes of Netflix Death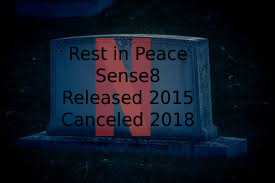 In 2007, Netflix evolved from a mail-order DVD rental service to the streaming behemoth we know today. Four years later, they announced they would start producing their own TV shows, starting with an American rendition of the '90s British show House of Cards, which was released in 2013. 
Since then, Netflix has produced over 2,000 original motion pictures and canceled over 90. There are many reasons as to why, cost and lack of viewership, to name a few.
One of the most commonly cited reasons is a show's costliness. For example, Sense8, created by The Wachowski Sisters (The Matrix) and J. Michael Straczynski (Babylon 5), is a sci-fi story following eight people from across the globe, each experiencing strange but related hallucinations. The show explores themes like empathy that look beyond character differences as well as both blood and chosen family. Sense8 season one was released in 2015, gaining a loyal but small following that didn't quite live up to Netflix's viewership expectations. Though earning quite a few accolades, one being GLAAD's Media Award, the show didn't quite break far from its small audience. Season two spanned from 2016-2017, when the blade dropped and they announced that there would be no continuation. After fan pushback, a special finale movie was ordered to wrap up the loose threads left by the premature cancellation. So why does Netflix invest in shows just to cancel them?
The Cost Plus Model (an additional fixed percentage) is a business model employed by many streaming companies. According to CNBC, Netflix will pay for the cost of the entire production of a show, plus an additional 30%. With this agreement, Netflix retains licensing rights, meaning if the show is canceled, it is easier for the show to get picked up by another company if Netflix sells the rights. Cost and viewership are explicitly linked: if a show doesn't excel immediately, it will likely be shelved. 
While some popular shows like Stranger Things run for multiple seasons, others with more cult followings aren't so lucky, mostly due to viewership leading to the ability to make back the money spent on production. 
A recent example is First Kill, the story of a teen vampire hunter as she works to make her first kill. Coincidentally, she falls in love with the vampire she's meant to kill. That vampire is on her way to making her own first kill. Both girls try to conceal their relationship from their families while trying to find a way to stay together. So why was it canceled?
Well, I couldn't tell you. First Kill was in Netflix's Top Ten for 3 weeks, racking up about 99.7 million views in its first month of streaming. So when Netflix announced that it was canceled due to low viewership, it came as a surprise to fans. Unfortunately, hours watched don't necessarily mean the show was finished by those viewers. First Kill attracted a large audience, but it's unknown how many stuck around. 
More often than not, the reason for canceling a show is not revealed to the public. Altered Carbon, for instance, was a highly praised sci-fi show cut after two seasons. While Netflix didn't officially announce the reason, its cancellation was announced a week after two other shows (I Am Not Okay With This and The Society) were dropped due to COVID interfering with production, commonly leading entertainment publications to the inference that Altered Carbon was cut short due to the COVID pandemic. However, we do not have an official statement.
The 'Defendersverse' (Defenders Universe) is a unique case of Studio Conflicts. Originally made for Netflix, the first seasons of both Jessica Jones and Daredevil aired in 2015, expanding to other members from the Defenders comic series such as Luke Cage and Iron Fist.  Daredevil focuses on Matthew Murdock, a blind lawyer with heightened senses. Jessica Jones centers a superhero turned detective  Daredevil's cancellation was announced by Deadline, with interviews with show runners and a Netflix spokesperson citing the impending launch of Disney+ as the last knot of the Defenderverse's noose.
Though Netflix is very successful, its ever-expanding graveyard of unfinished stories leaves much to be desired.