Skyline Ethics Bowl Team Wins National Championship: Fledgling Team Certain to Be a Force in Coming Years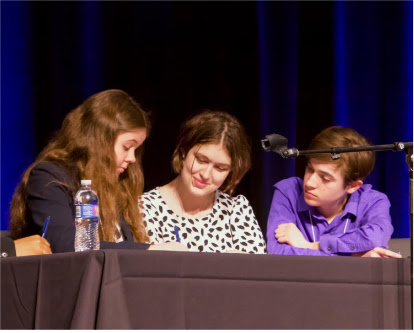 On April 2nd, the Skyline Ethics Bowl team won the National High School Ethics Bowl Competition in Chapel Hill, North Carolina, besting a New York City private school who had every advantage in the final. 
Out of 24 national finalists, the Skyline team, composed of Kathryn Plotner ('25), Catherine van Lent ('25), Shamiso "Shami" Ruwende ('24), and Ethan Schultz ('26), ended up on top. The team has made history as the first high school team in the State of Michigan to earn an Ethics Bowl National title. 
This competition is composed of multiple rounds of contestants examining ethical cases and arguing the side they deem correct. Responding to comments/questions from the opposing team and judges is allowed and encouraged. Teams are made up of a maximum of five students per match. There is no one right answer when it comes to ethics, as the judging is based on how the arguments are made. 
Some of the previous topics that have been discussed in high school ethics bowls are "breastfeeding in public, using photoshop in advertising, and dating a friend's ex," according to the National High School Ethics Bowl website. This year had topics such as the use of ChatGPT and immigrants coming to Italy.
Through a nearly undefeated run in the preliminary rounds and a surprise loss in the last match, Skyline went into the knockout rounds seeded eighth. Next was the quarter finals,  winning against Arlington High School from LaGrange, New York, which led Skyline to a match against the home team, Chapel Hill High School from Chapel Hill, North Carolina. 
In the finals, the relatively unseasoned Skyline newcomers faced a team of seniors from a private high school in New York: Regis High School. Skyline had the first argumentative case, with a rebuttal from Regis. The win was not expected, but entirely welcomed. "Every time they won," Rettaliata explained, "I was just like 'Oh my God. This is amazing. They're still winning!'" 
Having been largely comprised of seniors last year, the team had to make a concerted effort to recruit new members. Co-Captain Plotner described the club as "not a one people are flocking to." However, Co-Captains Plotner and van Lent put a strong team together.
Their winning strategy? Simplicity. 
"It was clear they [Arlington High School] had a lot more knowledge of the theories, throwing out Kant's humanity principle or the charity imperative," Plotner explained. "Our coaches advised us against using any of those because the probability of misusing them is too high."   
Rettaliata was impressed by the team's handling of difficult national issues, explaining that it took "a lot of time getting through those cases, especially because I feel like [they] were a little bit harder and there were a lot more viewpoints with them."